Ayurvedic Wellness at the Amanbagh
There is nothing more invigorating and soul-nourishing than disconnecting from the hustle and bustle of everyday life to indulge in bespoke luxury wellness surrounded by tranquil and breathtaking scenery. India's, Amanbagh, provides that and more.
Hidden away in the rugged Aravalli Hills, the stunning rose-pink, Mughal-inspired sanctuary is a welcome oasis offering a bespoke Ayurveda retreat. Our discerning members journey here to experience Ayurveda's ancient healing practices in its homeland and discover its powerful long-term benefits.
Through a variety of tailored immersions, Aman's luxury spa treatments are designed to promote deep feelings of peace and encourage meaningful and positive advances in life and outlook. Guests walk away with a profound aura of inspiration and an increased sense of self, ready to return home refreshed and rejuvenated.
Sienna Charles' lifestyle concierge delivers access to highly sought-after exclusive reservations to this luxury Ayurvedaor our ultra-high-net-worth clientele. With an array of soothing massage therapies, including calming aromatherapy, intimate yoga classes and personalized nutrition consultations, Aman's luxury Ayurvedic health retreat offers the pinnacle of wellness treatments.
Bespoke Wellness Immersions Curated with Sienna Charles
Learn More
Discover Profound Wellness with a
Luxury Ayurveda Retreat
Ayurveda, designed to restore balance and health, is a time-tested tradition rooted in ancient Vedic culture. For thousands of years, individuals from all walks of life have unearthed its tremendous healing techniques through powerful treatments that blend nutrition, herbs, aromatherapy, massage, yoga and meditation. Our discerning clientele is invited to experience its intense healing power with a one-of-a-kind four-night Ayurveda retreat at Amanbagh in Jaipur, renowned as one of the best luxury spas in the world.
As part of the immersive experience at this Ayurveda retreat, guests partake in healing holistic treatments, centering meditation classes and passive movement sessions including yoga. The physical and spiritual immersions work to elevate personal wellness in combination with a custom Ayurvedic diet plan offered to each individual. Every bespoke itinerary crafted by the expertst serves to balance the doshas (the building blocks of bodily health), alleviate mental and spiritual turbulence and promote a sustainable lifestyle.
Guided by intense discovery and assessment, Amanbagh's resident Ayurvedic physician creates a tailored immersion plan for each guest. Designed in harmony with a guest's individual wellness and lifestyle goals, each plan works to amplify memory, fortify the senses, elevate physical endurance and combat signs of aging.




Ayurveda Immersive Daily Routine
As golden rays of sunshine begin to brighten the sky and guests awake to a beautiful day at one of the most luxurious five-star hotels, Amanbagh's Ayurshala Centre offers guests Ayurvedic medicines and supplements specifically designed to meet their individual wellness needs and goals. With ingredients cultivated on-site, guests are treated to an in-depth look into each medicine and supplement's holistic formulation.
Having nourished their bodies, guests are invited to move to the expansive pavilion to rejuvenate their mind and spirit with a private yoga session. As guests flow through the session, every breath is infused with clean, fresh air and the calming sounds of natural wildlife soothe the soul. The invigorating morning is wrapped up with a brisk walk through the lush surroundings or a cultural adventure to explore the 16th-century Bhangarh Fort and ancient temple of Ajabgarh overlooking serene Jai Sagar Lake.
The day of Ayurvedic immersion continues into the afternoon with guests choosing from 30- to 60-minute Ayurvedic treatments that calm the body, soothe the soul and revitalize the mind. Signature treatments include Udvarthana (Ayurvedic exfoliating massage to remove toxins), SarvangaDhara (medicated milk massage to strengthen the nervous system), Choornaswedana (bundle massage with herbs), Shirodhara (warm oil forehead therapy for mental relaxation) and Abhyanga (warm herbal oil massage for relieving stress). After these enriching treatments, guests are treated to a dosha-specific lunch and tantalizing refreshers, followed by meditation at the remarkable Pratapgarh Fort.
Incredibly, as memorable as the day has been, the best is yet to come. As the golden sun begins to sink and the sky turns a deep violet, guests enjoy a dosha-specific dinner in one of the resort's fine dining spots. Guests can choose from an ancient stone chhatri, a dome-shaped pavilion illuminated by hundreds of twinkling diya lamps, the elegant rooftop of Amanbagh's main pavilion or beside a private pool awash with flower rangolis and the soft sounds of traditional Indian music. Each meal is a symphony of the rich flavors of Northern India and the wellness-infused properties of Ayurvedic cuisine. Dishes are exquisitely prepared using local recipes passed down through generations and the freshest ingredients plucked right out of the Ayurveda resort's organic garden.
Sienna Charles' luxury concierge offers our ultra-high-net-worth clientele access to this one-of-a-kind luxury Ayurvedic health retreat with bespoke experiences tailored specifically to individual desires, wellness goals and lifestyle needs. The highly sought-after reservations to this luxury spa include a luxury travel concierge services team who will meticulously plan and flawlessly execute every detail of this once-in-a-lifetime trip to India. Our discerning members also have unlimited 24/7 access to our lifestyle concierge services via text or email and our user-friendly mobile app to check itineraries.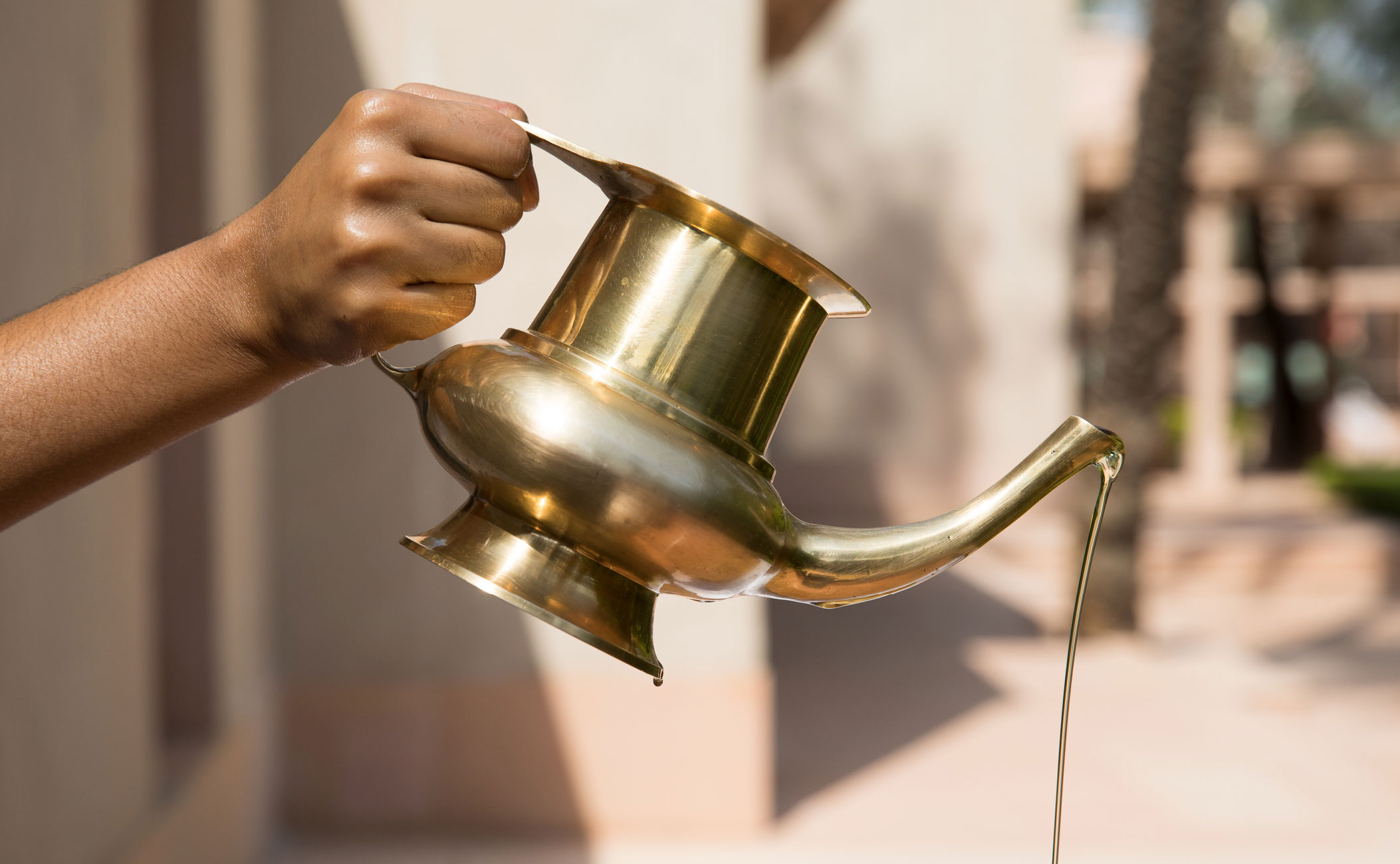 /
A Tranquil Oasis Situated in the Secluded Aravalli Hills
With crumbling ancient forts, monkey and tiger-inhabited wilds and picturesque villages, Rajasthan is renowned for its extraordinary organic beauty. And nowhere is that beauty more evident than in the luxury Ayurveda retreat, Amanbagh. A serene garden oasis embedded in the stark Aravalli Hills, this site was once the former hunting lodge for the Maharaja of Alwar.
Once our discerning clientele's private jet charter touches down, the journey continues through the breathtaking foothills of Rajasthan's western Aravalli Range. Here, the feeling of traveling back in time begins. Flashing by outside the windows of our members' luxury private car are women in brightly colored saris working the fields and water buffalo splashing in shallow muddy pools. As the stunning Ayurveda retreat appears on the horizon, a deep aura of serenity washes over guests. While the historical royal tiger hunts are no longer staged on the property, the Mughal-inspired vaulted entrances and rose-hued cupolas rising up from the greenery are no less awe-inspiring.
The sense of peace and serenity is elevated with the warm welcome guests have learned to expect at luxury Indian hotels. Amanbagh exceeds that expectation by welcoming guests with the singing of an ancient Sanskrit well-wishing prayer and the adornment of a colorful string around one wrist.
Guests are then ushered to the strikingly proportioned pavilions overlooking a pink sandstone colonnade and the most magnificent pool in Rajasthan. As guests further explore this majestic well of sparkling emerald water and the fragrant fruit orchard, a profound feeling of peace descends. Guests will be immediately struck by how Ed Tuttle, Aman's go-to American architect, has created a contemporary oasis in perfect harmony with the nearby wilds. By incorporating existing palms and eucalyptus trees filled with the cheerful sounds of birds singing and monkeys crashing from branch to branch, the integration with nature is profoundly organic.
Surrounding the poo, are a series of suites, including 24 havelis with a private courtyard, garden or balcony. In addition, there are 16 free-standing Pool Pavilions, each complete with a private pool and garden, dotted around the perimeter of the resort. From the awe-inspiring architecture to the lush orchard to the palatial suites and pavilions.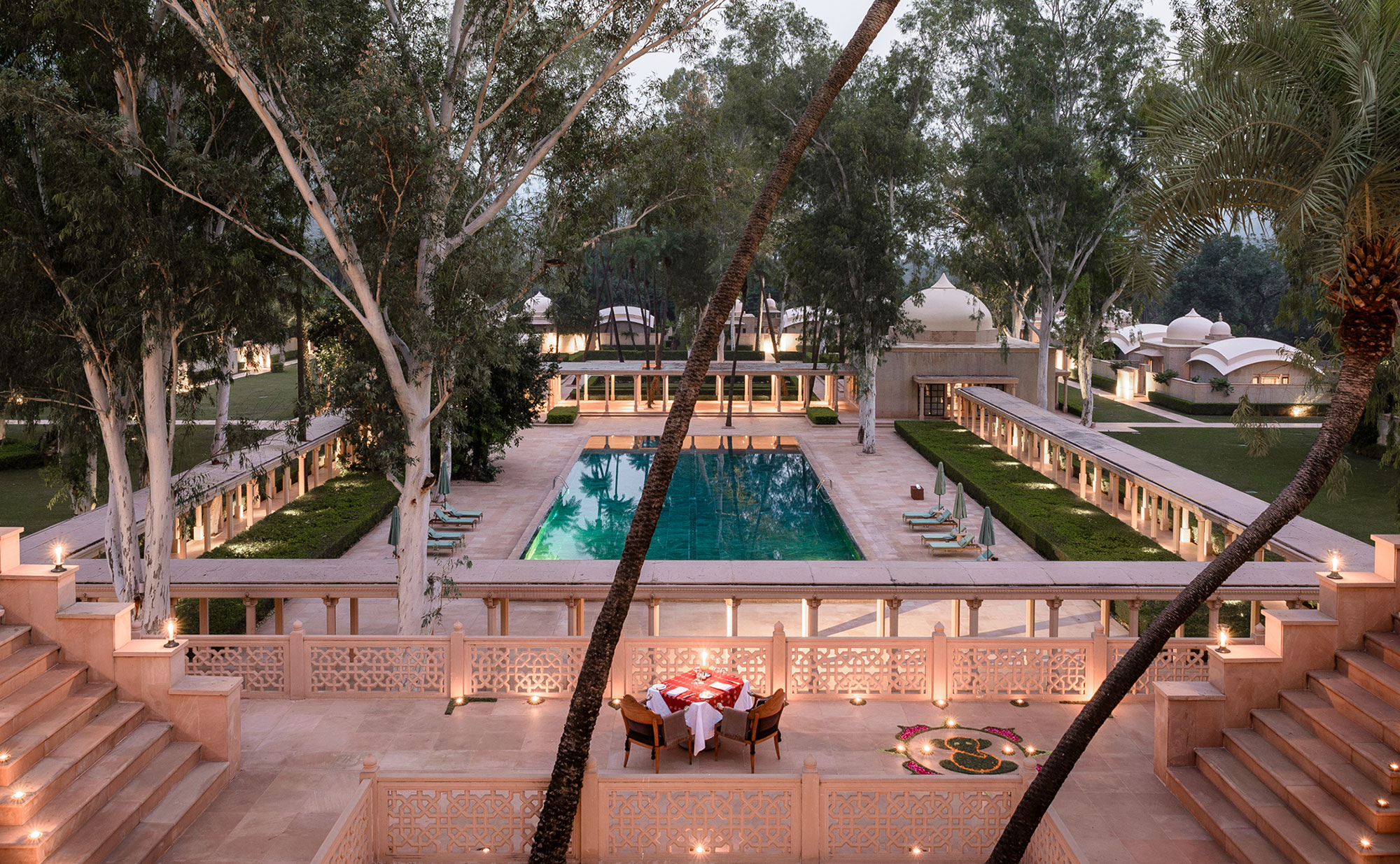 Amanbagh's Pool Pavilions
Amanbagh offers guests expansive pavilions, which include a spacious garden courtyard and private swimming pool surrounded by magnificent natural beauty. Each pavilion is a work of art complete with a luxurious king-sized bed centered under a soaring dome ceiling, a spacious en suite bathroom with a deep bathtub carved out of Udaipur green marble, a welcoming lounge area with a plush daybed and doors that open onto a private courtyard with a grand outdoor dining area. Natural light filters through the sparkling windows, illuminating the opulent marble and organic sandstone-filled space.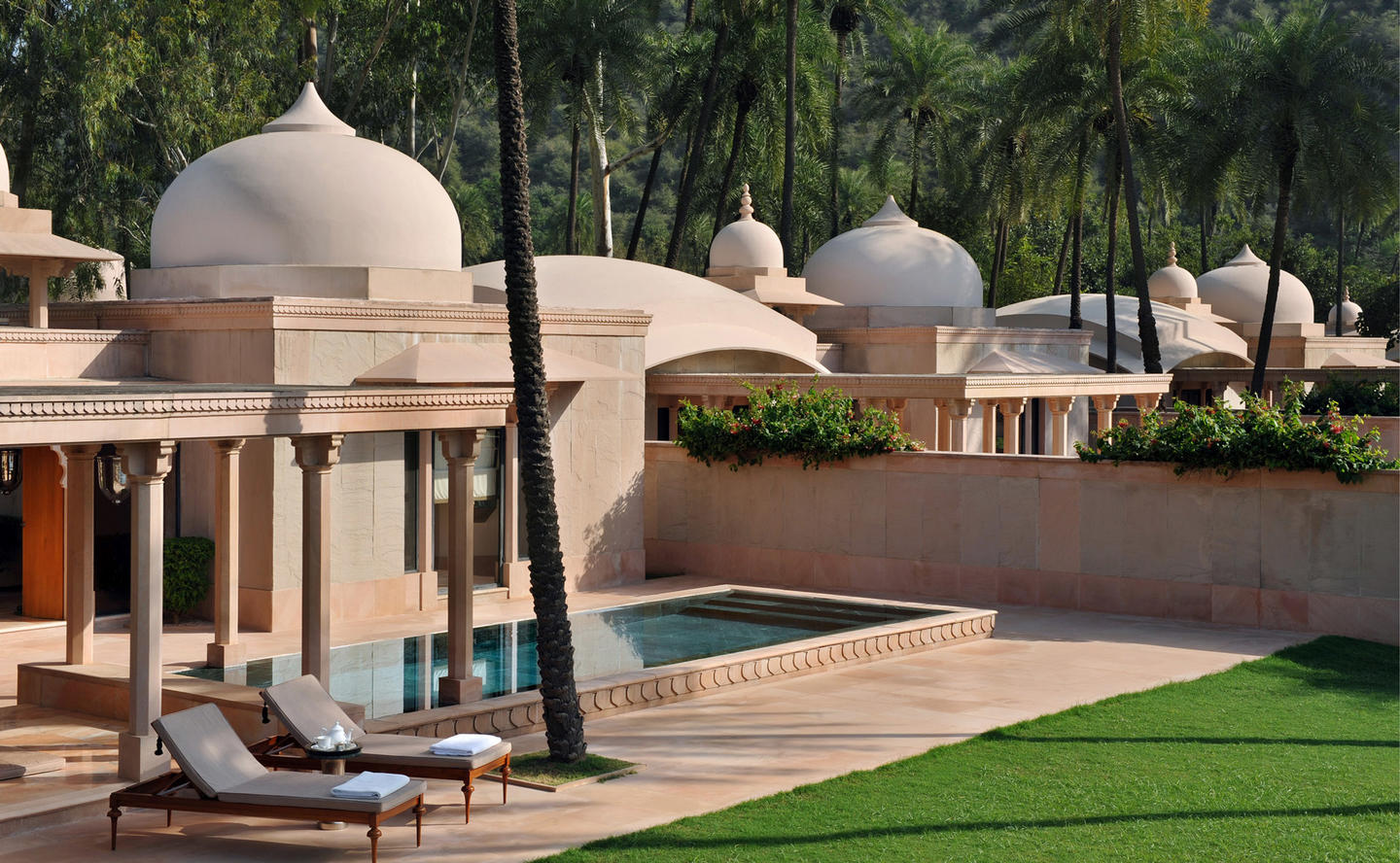 Sienna Charles Delivers Exclusive Wellness Immersions Tailored To Unique Desires
Learn More