A Secret Asian Halcyon Escape Within The City: The RuMa Hotel and Residences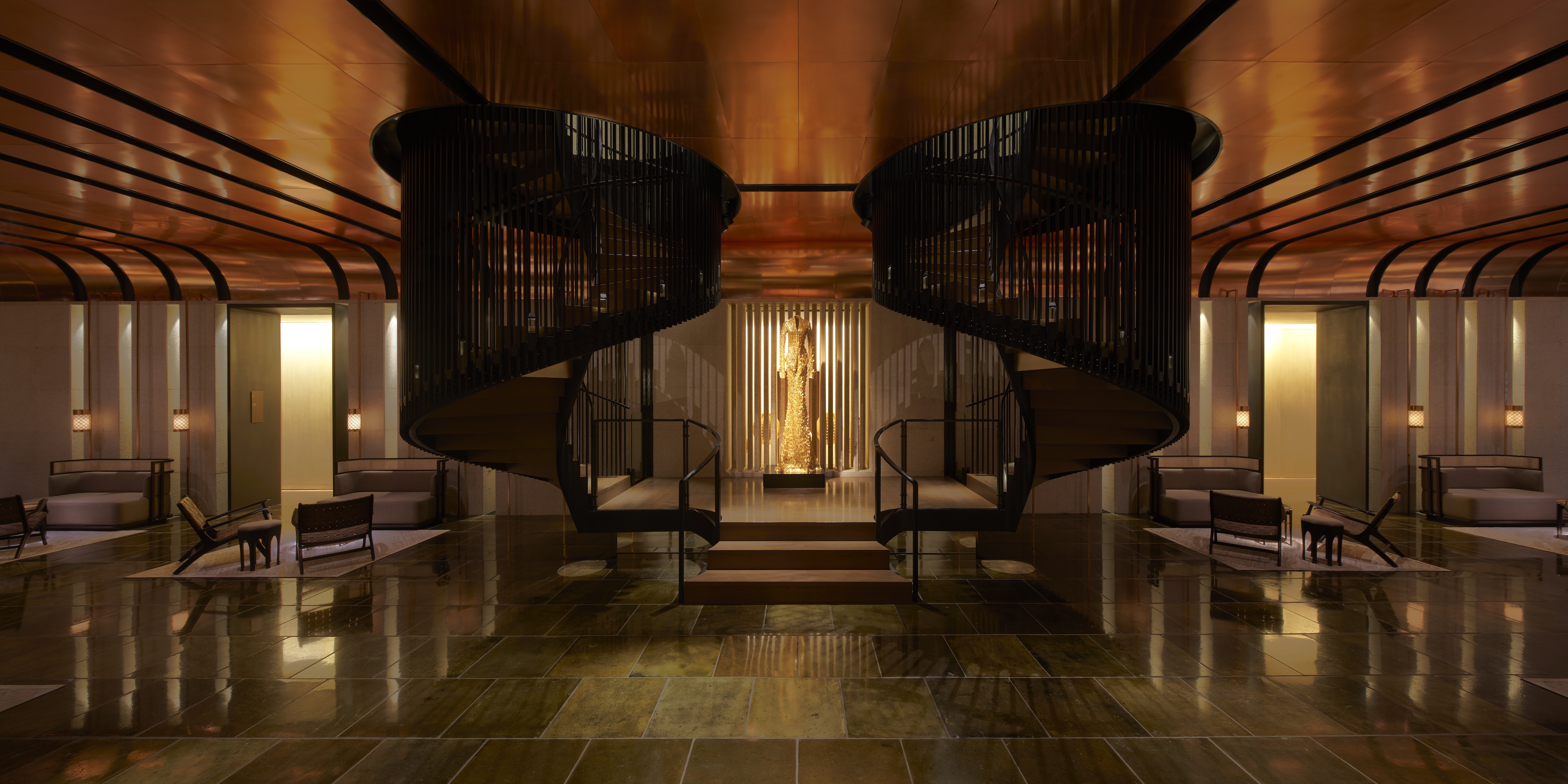 Kuala Lumpur is a city like no other. It offers a unique blend of ancient temples, futuristic skyscrapers, world-class attractions, Michelin star restaurants, luxury hotels & spas, and much more. As the capital city of Malaysia, it is truly a melting pot of culture with a modern touch. Each curated experience the city offers embodies the tagline "Malaysia, truly Asia".
There are a number of luxury hotels in Kuala Lumpur, each offering a unique experience. The Ruma Hotel and Residences Hotel and Residences is one of the most popular choices, offering an upscale experience with all the amenities you could want. Known for its excellent services and luxurious rooms, The Ruma Hotel and Residences offers a halcyon escape within the city.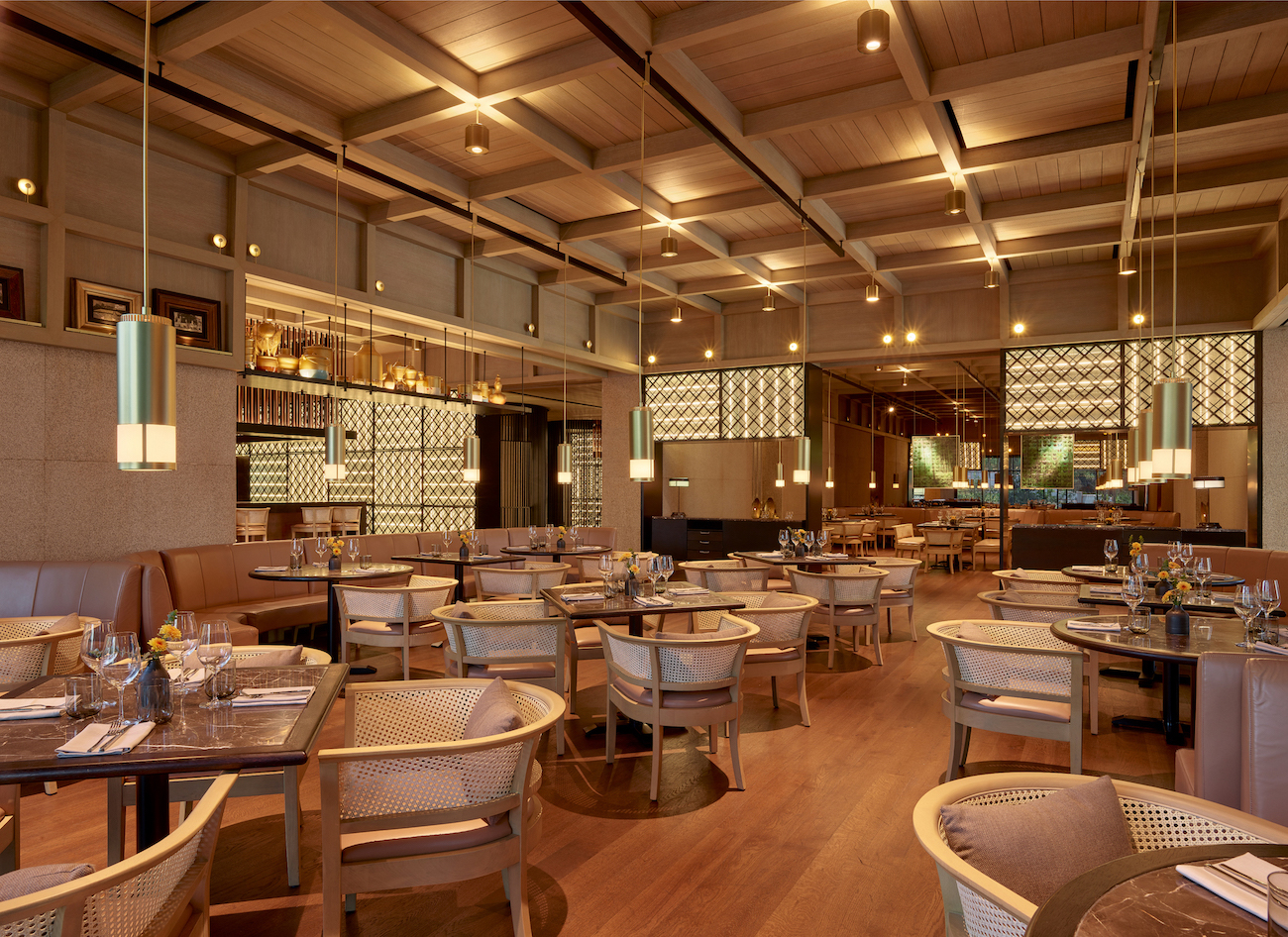 Impeccable Interiors & Dining Experience
An oasis of serenity in the heart of the bustling city of Kuala Lumpur. The Ruma Hotel and Residences is a five-star luxury hotel situated in a prime location just minutes away from the famous Petronas Twin Tower. It is the only hotel in Kuala Lumpur to join the prestigious The Leading Hotels of the World collection. Designed to make their clients' stay feel as comfortable and relaxed as possible. Known throughout Malaysia for its hospitality, specialty restaurant, stunning views, and a tribute to their heritage, The Ruma Hotel and Residences is a luxurious and unforgettable experience.
The Ruma Hotel and Residences offers elegance without pretense. As each VIP clientele walks in, a small bronze water fountain welcomes them leading to the reception area. Dominating the lobby are two spiral staircases enclosed by metal rods and their hospitable and sophisticated hotel staff and 24-hour check in/out service. Understated with elegant decorations and beautiful copper ceiling. Interior designer Andy HAll of MQ studio took inspiration from tin mines and rubber plantations from Malaysia's past. Giving the hotel a unique look with copper, bronze, and rattan weaves and local fabric.
The Ruma Hotel and Residences' stylish bar called SEVEN is a relaxing retreat tucked into the daylight-filled conservatory from their lobby, offers a delectable selection of drinks and light meals. ATAS, the main restaurant accessible via the spiral staircase is just a floor up. Taking guests on unexpected culinary adventures that rediscovers authentic Malaysian tastes and local provenance. A must is their ATAS 6-course journey crafted by their chefs.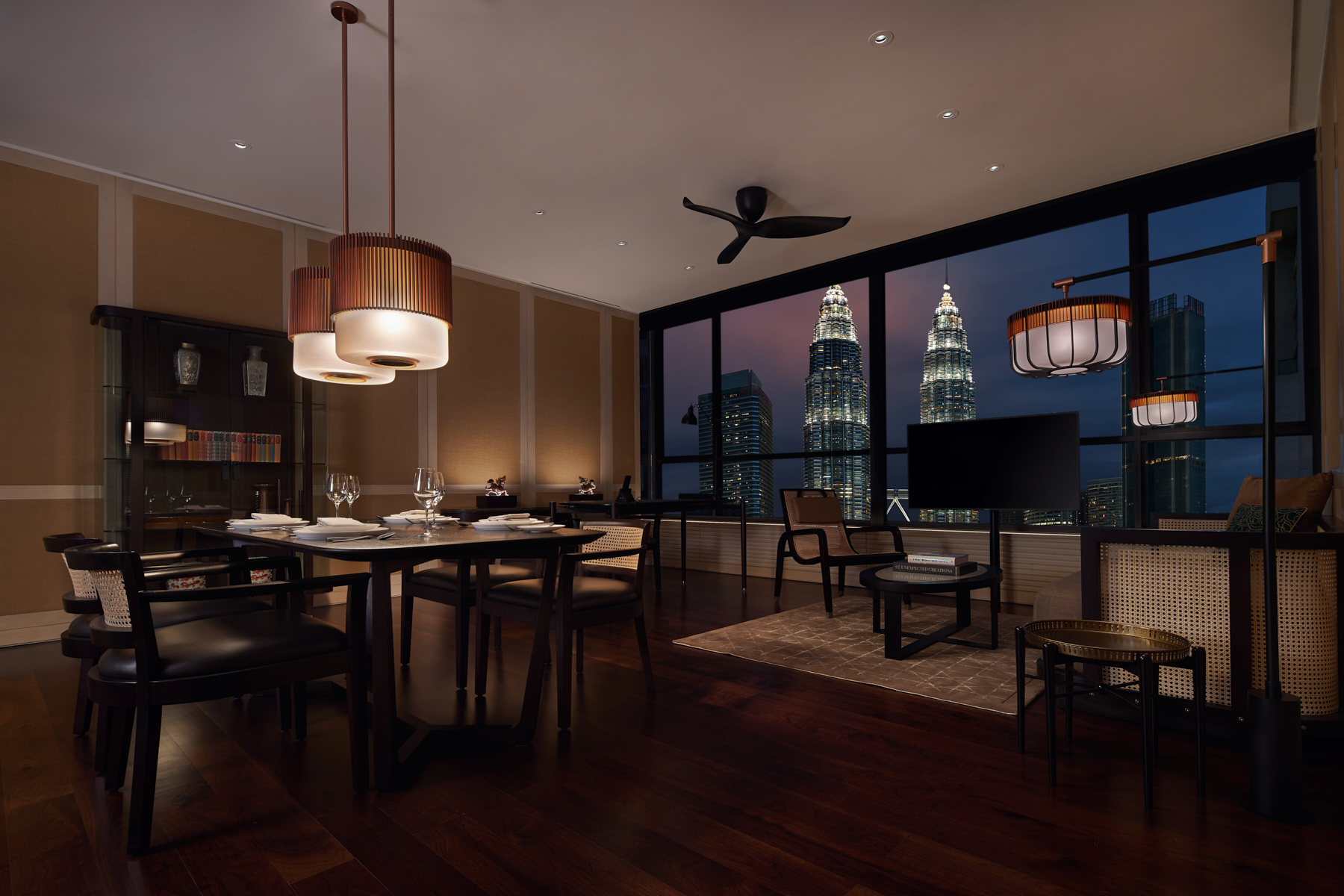 Luxury Staycation With Traditional Touch Of Malaysia
The Ruma Hotel and Residences's luxurious rooms and suites offer indulgences like automated blackout blinds, full-size bathtubs, complimentary mini bars, and breathtaking views. Still heavily influenced by Malay design and craft tradition, even the common corridors to each of the rooms are unique. A full view of Petronas Tower among its suites as one sip champagne while soaking in the bathtub is one of the must experiences when staying here.
Their rooms are spacious. The interiors are inspired by Malaysia's colonial heritage, with rattan furniture, pale-wood paneling and lantern-esque lamps, but the design is clean and modern. Exuding a distinctly generous and domestic character, each room is luxuriously appointed overlooking KL's spectacular skyline. Sink into the comforts of their intricately designed bathroom or relax at their versatile lounge, work, and dining area. Simply indulge at the view of the Petronas. Depending on which room one would get, each VIP is offered a deluxe room or suite furnished only with the most luxurious of materials and state-of-the-art technology.
An Oasis of Relaxation
Right at the 6th floor of The Ruma Hotel and Residences, one will find the space to completely unwind and relax. This is where their infinity pool with stunning views from above with lounges and terraces for meeting space, Barber by Truefitt & Hill that originates from London, gym with technogym equipment, and the one that everyone keeps coming back for–The UR SPA.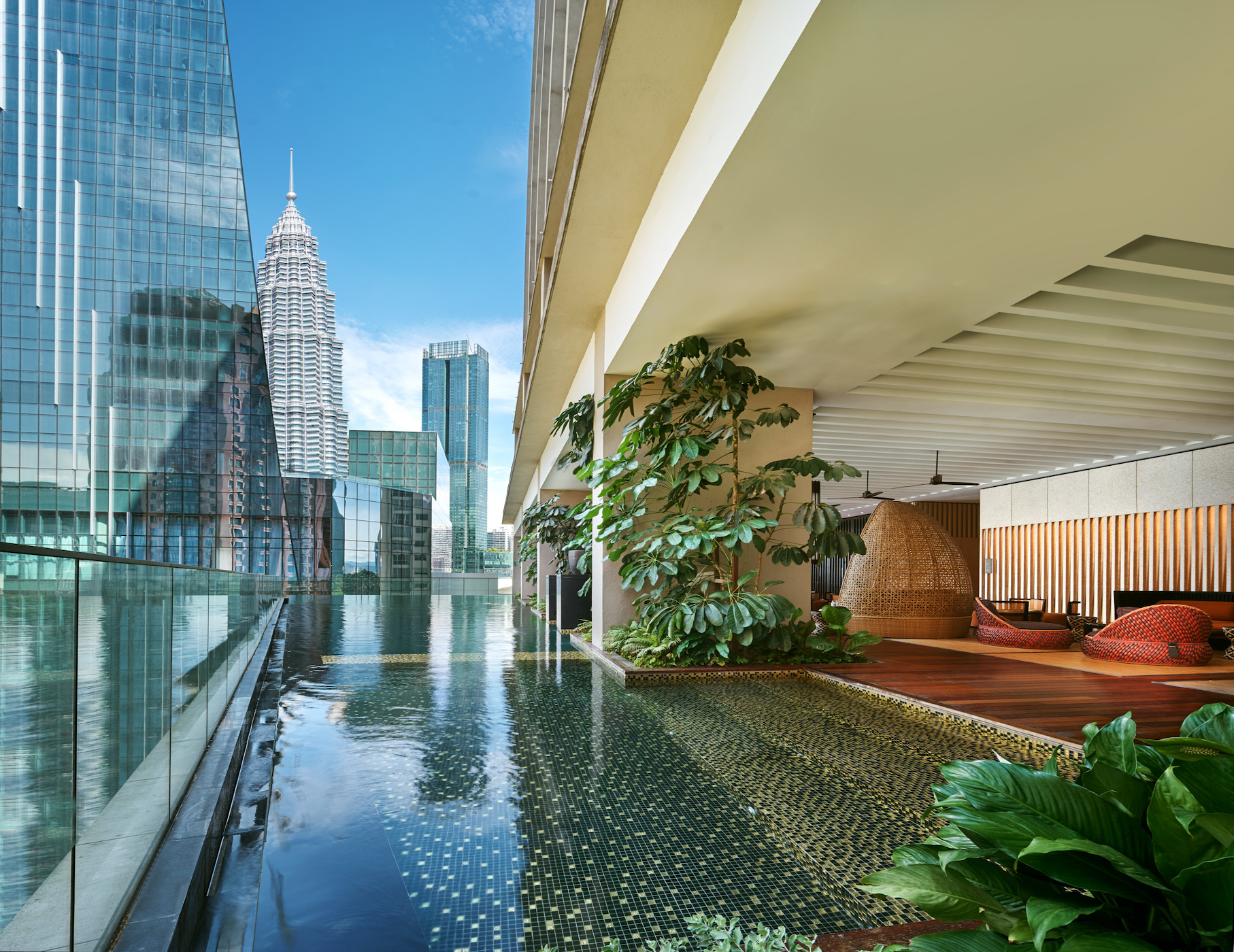 The UR SPA experience starts at the entrance of the spa. Hand-woven dried palm leaves by women from Terengganu lined the walls. The bed is covered with Malaysian batik sheets. Mesh underwear, robe, or sarong are offered for the guest to change into one of their private bathrooms. An electronic safe is also available for valuables with hangers for clothing. Blocking the concrete jungle outside is the outdoor terrace with a day bed enveloped by tall, leafy plants. A choice to play curated relaxation music or the guests' very own playlist. Comfort is always their top priority. With a welcome drink of Asam boi and ginger ale, enter a calmer state of mind to completely unwind and relax. And with only five treatment rooms total, including a couple's suite, reservations are made weeks if not months in advance.
Empowering a regenerative society with exceptional values and sustainability commitments, UR SPA offers customized solutions with ComfortZone. ComfortZone is a world leader in the advanced science of wellness products that helps emotional wellbeing and gives extraordinary results. Indulge in this hidden chic urban spa and be pampered and nourished inside and out. The city and the hectic pace of everyday life can take a toll on anyone, and this holistic experience is well-deserved. Encouraging rapid healing and relieving body aches and pain. Rejuvenate and detox with the calm energy from the spa's traditional & modern touches.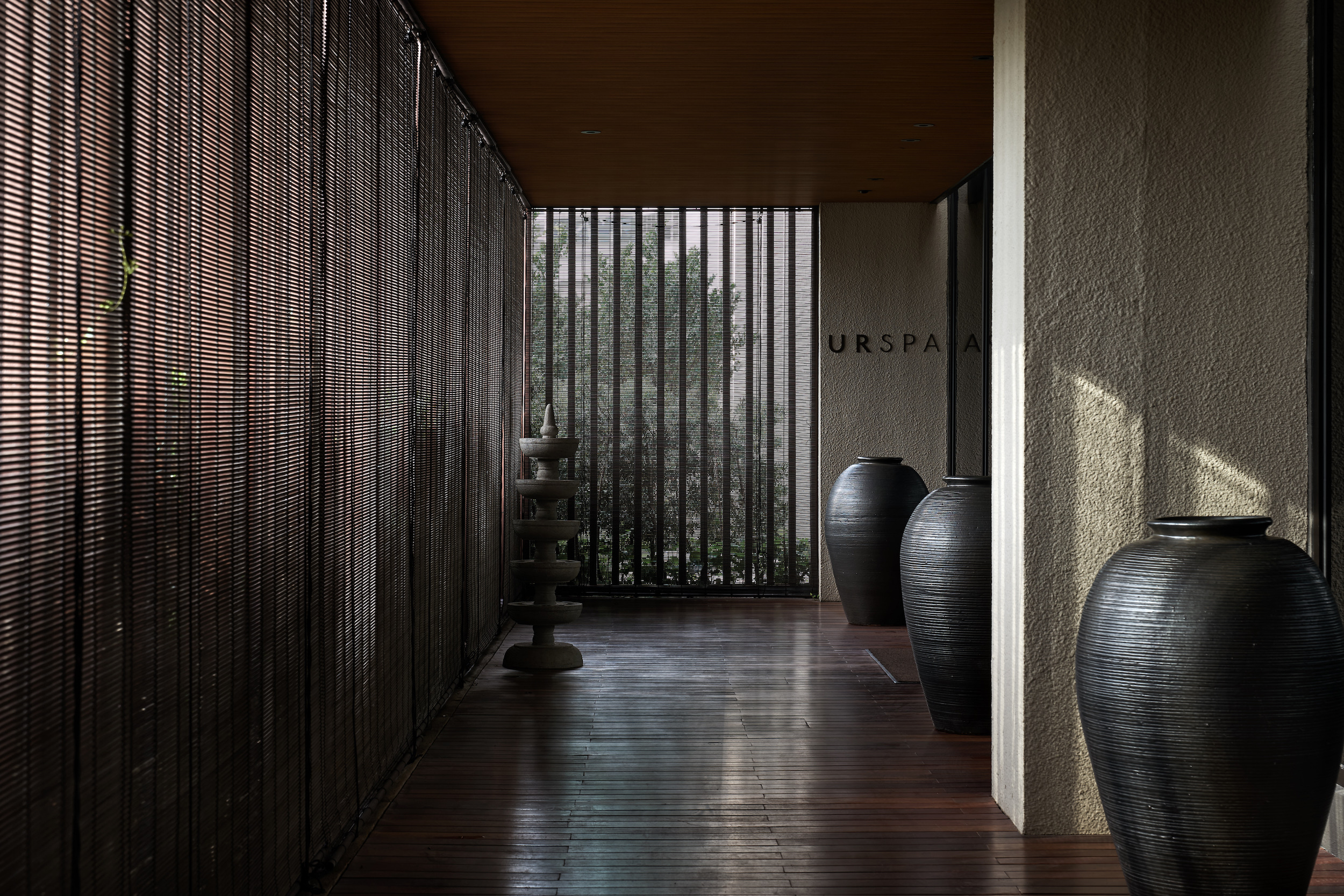 UR SPA offers more than these treatments. With UR SPA, you can enjoy the world's first innovative solution for beauty and wellness. With M3, you can choose from 7 non-invasive treatments - Radio Frequency, Ultrasound Liposuction, No-Needle Mesotherapy, Ultrasound, Diamond Microdermabrasion, Cavitation Peeling, and Dermomassage. Literally, feel lighter. Let go of the weight of stress, especially on the shoulders and the back. Tangible, genderless result-driven beauty and wellness treatments at UR SPA complement the fusion of modern and ancient healing.
A Tropical Sanctuary
Melt into this tropical sanctuary in the middle of the city. After a long day of exploring temples, the Malay culture, and even the world-class attractions around Kuala Lumpur, one can never deny the craving for relaxation The Ruma Hotel and Residences delivers to each of their guests. A complete package that offers experiences that rejuvenates overall well-being. The Ruma Hotel and Residences is a luxury hotel that did not forget to include Malaysia and the Malay hospitality in all aspects.
Sienna Charles offers a variety of luxury services to curate your ideal experience
Apply for membership