From Paris with Love: Biologique Recherche's Los Angeles Flagship Store Debut
For those in the know, Biologique Recherche is synonymous with luxury skincare. The brand's products are used in some of the world's most prestigious spas, and its cult following includes everyone from supermodels to Hollywood royalty.

The much-anticipated Los Angeles opening of luxury skincare brand Biologique Recherche is finally here. The brand is known for its unique, bespoke approach to skincare, and its products have gained a cult following among beauty connoisseurs. This is the first Biologique Recherche flagship store in the US, and it is sure to be a haven for anyone looking for the perfect skincare solution.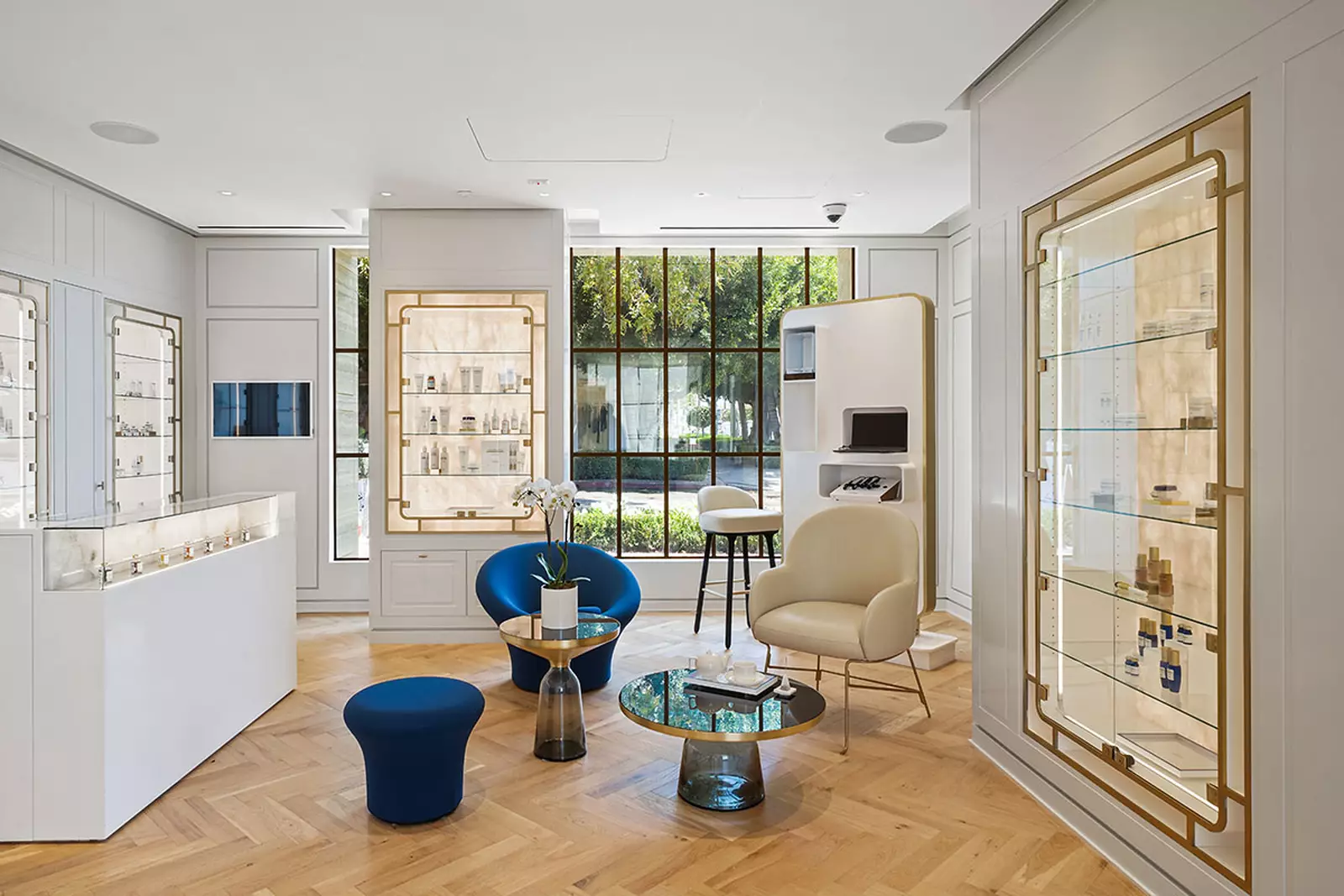 Inside Biologique Recherche's Flagship Store in Los Angeles
Nestled in the heart of Beverly Hills in Melrose Place, the first US Biologique Recherche Ambassade is a haven for those looking to experience the brand's luxurious and indulgent skincare treatments. Unlike traditional spas or clinics, the Biologique Recherche Ambassade is dedicated solely to the Biologique Recherche brand and its iconic Methodology.

The Biologique Recherche Flagship on Melrose Place is the brand's first foray into the American market. This luxurious two-story space features an elegant design with a gilded front desk and warmly illuminated glass display cases. The space was inspired by one of Philippe's former Parisian apartments and exudes a feeling of luxurious sophistication. French designer - Joanne de Lepinay created a cozy elegant atmosphere with superb technical facilities. High ceilings, marble works, a bit of designer Europe with LA's flair. A sanctuary of clear opulence and prestige for hyper-personalized skincare.

Upon entering the 5000 square ft spa and retail space, guests are greeted by a team of highly trained skincare aestheticians who are there to tailor-make a skincare assessment and experience for each individual. From there, guests are led to one of the brand's iconic white-and-gold Treatment Rooms, where they will enjoy a range of luxurious and indulgent treatments. The place features only 6 treatment rooms, a VIP suite, retail space, and a hair salon with scalp treatments and blowouts.

DNA-based Treatments
Biologique Recherche is a French company that was founded in the 1970s by Yvan, Josette, and Philippe Allouche. Currently, it is managed by Ruper Schmid and Pierre-Louis Delapalme and backed by family offices. Biologique Recherche's expansion is based on word of mouth said Schmid. The brand has built up a loyal customer base and cult following around the world, thanks to the effectiveness of its products and treatments that is unlike any other.

Since its founding, Biologique Recherche has been at the forefront of developing sophisticated machines to test and measure the skin. This has allowed the company to create products that are tailored to the specific needs of each individual.

Biologique Recherche DNA is rooted in the idea of personalization. Unlike many other brands that offer one-size-fits-all products, Biologique Recherche DNA tailors its treatments to each individual's specific needs. This personalized approach has made Biologique Recherche a favorite among celebrities, makeup artists, and skincare experts.

3-Stage Methodology
Biologique Recherche is a skincare company that has been in business for over four decades. Their skincare methodology is based on personalized skincare protocols that are adapted to the individual's skin type. These treatments for the face, body, and scalp are suitable for both men and women and comprise three main stages:
THE ASSESSMENT STAGE:
At the assessment stage, a Biologique Recherche expert carries out a thorough dermo-cosmetic diagnosis to pinpoint the exact Skin Instant. This is done by analyzing their client's skin's specific needs. During the assessment, the expert will consider various factors such as skin type, tone, texture, and elasticity. They will also assess one's skin condition, taking into account any concerns the client may have. By understanding each skin's individual characteristics, the expert can tailor a bespoke treatment and after-care plan that will give each the best possible results

Biologique Recherche, a pioneer in skin diagnosis within the field of professional esthetic services, now offers a new diagnostic tool to supplement its Skin Instant Lab and VisioLab: My Beauty DNA. Using a DNA sampling kit, Biologique Recherche analyzes the skin for 14 markers relating to aging, sensitivity to sunlight and environmental factors, and their client's cutaneous profile. This analysis provides an overview of one's genetic predispositions, helping to better understand the skin's "inherited" needs, which are invisible to other diagnostic instruments.

My Beauty DNA is a valuable tool for anyone looking to improve their skincare routine. By understanding the skin's specific needs, one can make more informed decisions about the products and treatments that are right for them.

THE INITIALIZATION STAGE:
Balancing the epidermis. The treatment protocol is a precise and rigorous ritual that helps to prepare and balance the epidermis. This helps to protect the skin from the aggressions of the external world and leaves the skin feeling hydrated and refreshed.

The first step is to thoroughly cleanse the client's skin combined with a massage, which helps to relax the muscles and prepare the skin for the next step. The next step is to apply the brand's iconic lotion P50 and a face mask to hydrate and soothe the skin.

THE TREATMENT STAGE:
The Biologique Recherche Treatment Stage is an important step in the overall skincare process, as it helps to restore balance, hydration, and vitality to the skin in depth.

The Treatment Stage of the Biologique Recherche Skincare Methodology incorporates products with the highest concentration of active ingredients, to "recondition" the epidermis and help enhance its potential for self-regeneration.

When they're applied in line with the Biologique Recherche methodology, these products balance, hydrate, and revitalize the epidermis as required by each Skin Instant©. The active ingredients take effect gradually, skin quality improves, and the complexion becomes radiant instantly.


BIOLOGIQUE CUSTOMIZED TREATMENTS
Biologique Recherche is a company that is focused on understanding the messages that the skin sends. By understanding these messages, they are able to fine-tune their treatment protocols for each individual. This is done by analyzing a person's skin type and then devising a personalized skincare protocol specifically for that person.

Biologique Recherche continues to constantly adapt and improve its treatments based on the latest research. They provide the most up-to-date and effective treatments possible. Each treatment is executed with the same high level of quality. No matter what type of treatment one receives, each client is confident that it will be carried out with care and precision.

All of Biologique Recherche's treatments are executed with the same rigor and methodology, regardless of whether they are for the face, body, or scalp. A not-so-secret secret of true beauty connoisseurs. Changing lives from France to Asia to California for decades.
Sienna Charles offers a variety of luxury services to curate your ideal experience
Apply for membership