Project Sparta: The Megayacht Of The Future
The private yacht that offers everything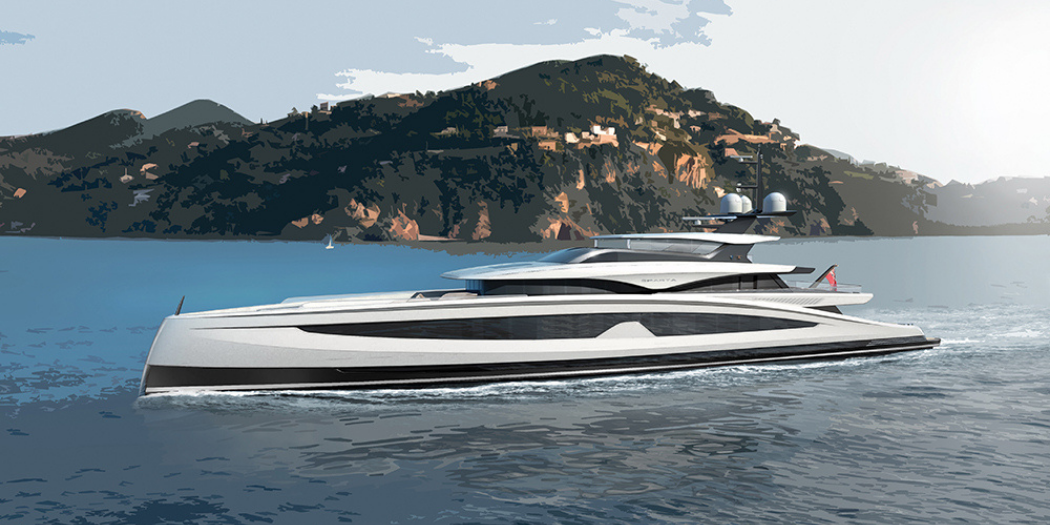 Project Sparta's sleek and sporty profile coupled with her innovative motor design makes her the megayacht of the future.
The perfect marriage of bespoke luxury and ultra-efficient machinery, Project Sparta is the megayacht of the future. At 67-meters in length, her clever design asks for no compromises in either comfort or utility. Once finished, she will be the largest steel displacement motor yacht Heesen has ever built. The Dutch shipyard has announced that the construction of the superyacht began in Oct 2020 and is expected to be completed in 2023.
Constantly pushing the boundaries of yacht crafting, Heesen has collaborated with Arcon Yachts of Monaco and Winch Designs to bring the floating masterpiece to life. Arcon Yachts serves as the Owner's technical advisors and project managers of the full-custom yacht's construction. Andrew Winch's interior and exterior design ingenuity has maximized every inch of the vessel's space while still maintaining an elevated look. Project Sparta features Winch's signature sleek lines and ultra-modern yet classic touches.
More than just her looks, Project Sparta utilizes Perry van Oossanen's patented fast displacement hull form (FDHF) to guarantee a hyper-efficient yet smooth and comfortable journey. She has an internal volume of approximately 1,200 gross tons, and her elegant engine room houses two MTU 12V4000 M65R diesel engines. The mega-yacht will reach a top speed of 16 knots and cut through the seas with a transatlantic cruising range of 4,500 nautical miles at 12 knots. Her crew will operate her from a raised pilothouse, lending itself to a more streamlined and sporty profile.
THE PRIVATE YACHT THAT OFFERS EVERYTHING
Project Sparta comfortably hosts 12 guests, two staff members, and 14 crew members. The bridge deck is reserved for the Owner and is composed of two suites and a private outdoor lounge. The main deck houses four guest suites. Winch Designs has shown off his utilitarian side by incorporating a sliding partition that seamlessly transforms two of the front-facing suites into a full beam VIP suite–a feature unusual for a vessel of its size. There is no wasted space and no compromises in comfort found on this go-anywhere-sized vessel. Winch Designs has rightfully deemed Project Sparta a "pocket mega-yacht."
The stepped aft deck houses a 6.5-meter Infinity pool, and the top sundeck features a bar and jacuzzi. An offset spiral staircase wraps around a glass elevator that connects all three decks. The lower deck is home to crew quarters and a wellness sanctuary that includes an oval jacuzzi, sauna, gym, and steam room.
PROJECT SPARTA EMBARKS ON THE ULTIMATE MAIDEN VOYAGE
Project Sparta's maneuverability means nearly unlimited opportunities to discover the world's most exotic and far-flung destinations. Her 2023 maiden voyage will include stops at shipyards in the following most desirable destinations:
1.) THE MEDITERRANEAN
The Mediterranean's gorgeous coastlines will perfectly complement the yacht's sleek and super sporty profile. Optimal mooring opportunities abound in this premier yachting destination, with possible dockings along the Amalfi Coast or perhaps a long tour through Northern Sardinia for breathtaking views and some of the best cuisine Italy has to offer.
2.) FJORDS OF NORWAY AND THE LOFOTEN ISLES
Project Sparta was destined to navigate Norway's vast network of waterways. Her compact size and hyper-efficient machinery will allow her to move deftly through the deep fjords, letting her get up close and personal with its magnificent glaciers. The landscape drenched with untamed mountains and wildlife will offer an abundance of activities for the owner, including fishing, mountaineering, kayaking, and canyoning.
3.) THE CARIBBEAN AND BAHAMAS
During the winter months, Project Sparta and her Owner will warm themselves along the sun-soaked coastlines of the Caribbean. Here, there will be plenty of opportunities to sunbathe on the yacht's spacious decks, snorkel in the crystalline waters, and take in the warm breeze while entertaining friends and family at the top deck bar. Project Sparta will have no trouble maneuvering between the more than 700 islands the Bahamas has to offer–each with its distinct personality and offerings.
4.) AUSTRALIA AND NEW ZEALAND
The Land Down Under's vast coastline includes opportunities to explore the rugged island of Tasmania, visit the idyllic Whitsunday archipelago, and of course, scuba diving at the iconic Great Barrier Reef. New Zealand is almost ubiquitous with natural beauty, and no voyage would be complete without a visit to the idyllic paradise. Its rolling green highlands, spectacular waterfalls, and majestic glaciers will provide an abundance of outdoor activities for Project Sparta and her owner.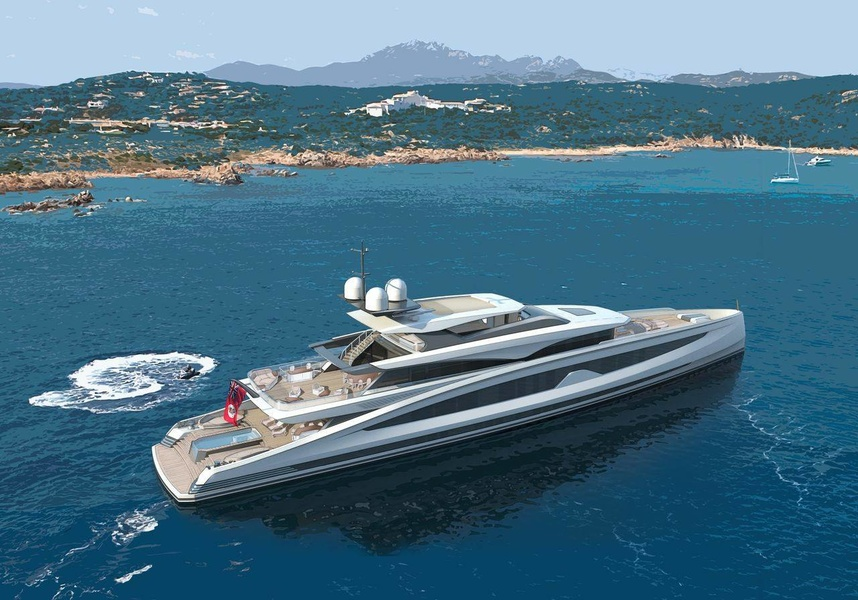 The megayacht's stepped aft deck features a 6.5-meter infinity pool for ultimate relaxation.
THE MEGAYACHT CHARTER OF THE FUTURE
Project Sparta is destined to influence the future design of mega-yacht charters. Its devotion to ultra-luxury design serves as the perfect template for the ultimate mega-yacht: a spacious and comfortable interior yet compact enough to navigate smaller passageways around the world. Those looking to charter yachts will want the option of being able to go anywhere without compromise.
With our luxury travel concierge, whether you already own a yacht or are looking to charter, each journey is personally customized and guaranteed to exceed all expectations. Embark on the voyage of a lifetime, become a member to book the ultimate luxury yacht charter.
Sienna Charles offers a variety of luxury services to curate your ideal experience
Apply for membership