AHPO: The Queen of Monaco 2022 Yacht Show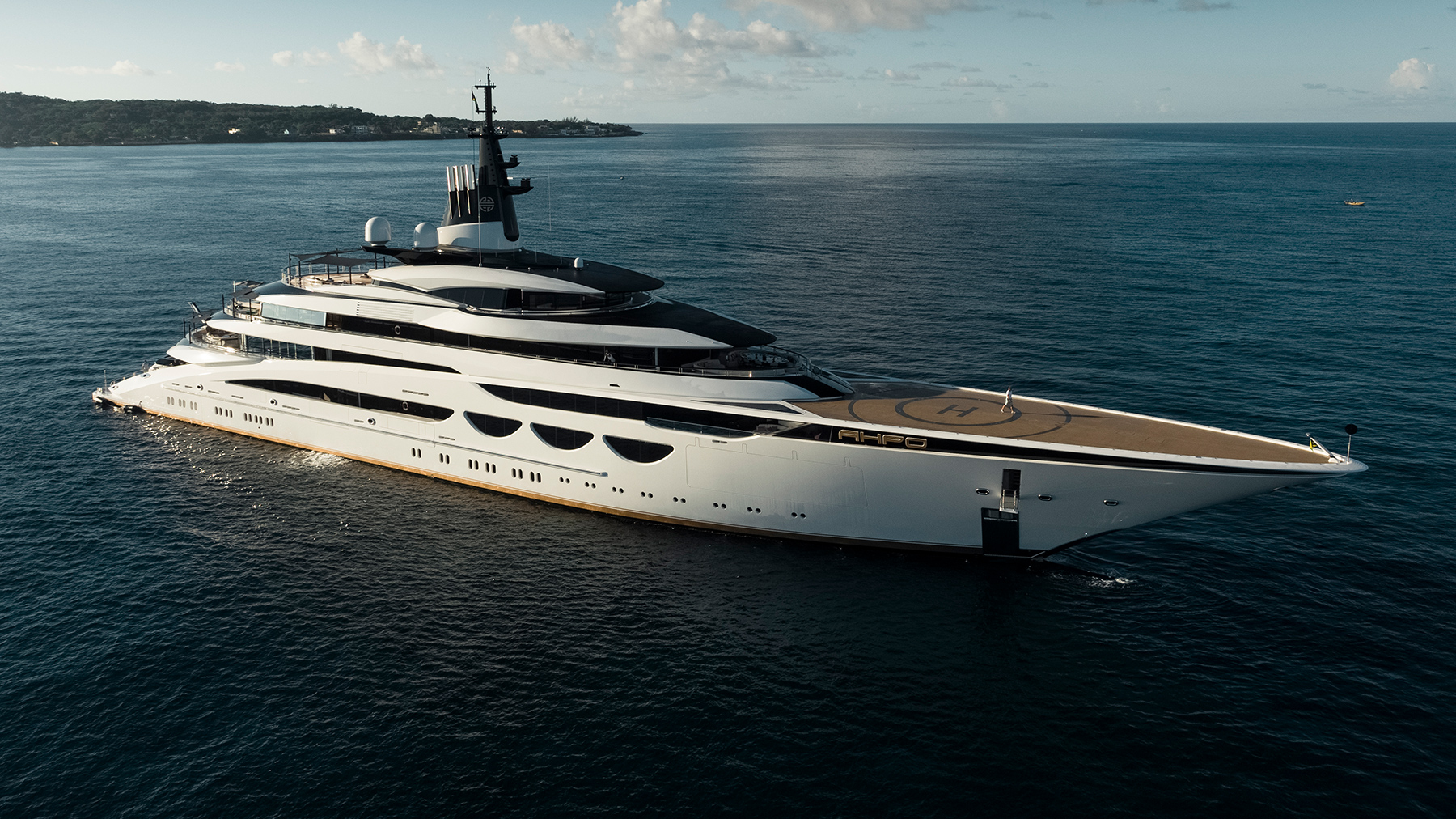 The largest superyacht on display this year at the 2022 Monaco Yacht Show is the AHPO. She is debuting as the 'Queen' of the show.
A superyacht designed by the bests of the bests in the yacht industry for the highest level of luxury.
Family First Superyacht
AHPO is the ultimate Mediterranean or Caribbean family charter for VIP concierge services. Taking the stress out of family vacations with generous accommodations for up to 16 guests with seven luxurious staterooms.
A social statement. She is the definition of a tailored luxury experience unavailable anywhere else. One word to describe the experience with her – is PRIVACY. AHPO gives privacy that is not that easy to obtain onshore. She is a floating mansion that offers an unforgettable private yacht charter experience with a plethora of toys and activities onboard. The unparalleled freedom and limitless charter offers of luxury yacht AHPO are unmatched. Sailing under the 5th most popular flag state for superyachts, the Marshall Islands Flag. Last spotted cruising near Italy, AHPO's professional crew of 36 will cater to every guest's needs.
The great escape where anything is possible, everything is within reach. A luxury yacht for hire for a private yacht vacation. Cruise hidden bays, explore exotic locations, and discover the undiscovered. And travel the vast ocean in a luxurious 5-star boat trip experience—a fun way to bond with the family in style.
The Queen AHPO Interiors & Exterior Unveiled
Codenamed Project Enzo, she has been officially named AHPO. It's a Hakka Chinese word meaning 'grandmother.' The sleek interior and exterior of the superyacht for hire were designed by celebrated designer Nuvolaro-Lenard, with naval architecture builder Lürssen Yachts. Both are known as the best in the industry of luxury yacht building. They have cultivated the most refined skills and advanced technologies to create great vessels.
She is owned by 70-year-old self-proclaimed yacht connoisseur– Michael Lee-Chin. A Jamaican billionaire. Currently, the chairman and CEO of Portland Holdings Inc. She is his repeat order from both Lürssen and Nuvolaro-Lenard.
The Exterior
AHPO is the 63rd Largest Superyacht In The World. She boasts a whopping 5,257 GT of interior volume and plenty of onboard amenities. In addition, she runs at a 14-knot speed to a maximum of 20. She is also very stable with her built-in anchor stabilizers. Featuring an elongated and sinuous exterior, her superstructure gives her a unique and distinctive aesthetic. Her helipad is not only massive, but she also has a second one, so guests can come and go as they please.
Her lower deck swim platforms serve as outdoor extensions of the beach club, providing spacious seaside terraces for sunbathing and lounging. The beach club is directly accessible, and two stairways lead up to the main deck aft for additional sunbathing and lounging options. Guests on the upper deck have access to an 8m/26ft pool with a side-Jacuzzi and a sunbed adjacent, and on the owner's deck, there are seating and sun loungers with canvas shades for a leisurely day. Side walkways along the Owner's deck lead to a forward lounge placed under the shade of the bridge deck overhang. The sundeck also grants guests panoramic views of the surroundings from an elevated position. The walkways on the Owner's deck lead to an aft lounge, which is shaded by the bridge and provides a panoramic view of the surroundings.
The Interior
In keeping with her Chinese name, the interior design features an Asian aesthetic with natural materials and colors. The 115.1-meter Lürssen superyacht top-notch design linked all the elements of nature, a prime example of how imagination and creativity can blend with advanced engineering to create a harmonious balance throughout the luxury yacht.
The wellness area on the lower deck welcomes guests to a stylish bar with a stunning backdrop of a large bamboo tree and a lush massage room on one side. This is where one can find as well the hammam, Jacuzzi, and plunge pool. Down the hall, past her engine room, AHPO has a futuristic 12-seater cinema.
AHPO has a large conference room with a Jamaican antique map and a custom centerpiece table on her main deck. She is designed with deep blue resin, sliding doors, and self-playing Steinway piano. Dominated by her grand staircase, the center of the Queen yacht AHPO allows guests to access all floors. Depicting an olive tree surrounded by cranes, striking hanging crystal sculptures, and falling feathers, where each is built by hand.
Exploring her upper deck, AHPO is home to an 8-meter swimming pool, a large sun pad on one side, and a Jacuzzi flanking on the other. The gym with state-of-the-art equipment and stunning panoramic views can also be found here. A wide array selection of his-and-hers suites. Her seven guest staterooms include two on the owner's deck, four on the main, and one on the lower deck. Bathrooms and dressing rooms are adorned with mosaic patterns and bold marbles. The family members personally chose the colors and designs of the two guest staterooms on the owner's deck.
When You Know, You Know.
Until a guest charter her, the complete details of this superyacht are only known to those who choose to book her through a private luxury concierge. Her amazing amenities are more like a mansion than a car. Gourmet kitchens, specialized spa & beauty salons, wellness areas, dance floors, water toys such as sailboats, jet skis, and more. Everything one can imagine about a luxury private cruise yacht, she got it. After all, as 2022 Monaco's Yacht Show's biggest superyacht, her title as 'Queen' is not for nothing.
SIENNA CHARLES OFFERS A VARIETY OF LUXURY SERVICES
TO CURATE YOUR IDEAL EXPERIENCE
BECOME A MEMBER