Building the Ultimate Wine Cellar
The most intoxicating wine
experience is just a room away.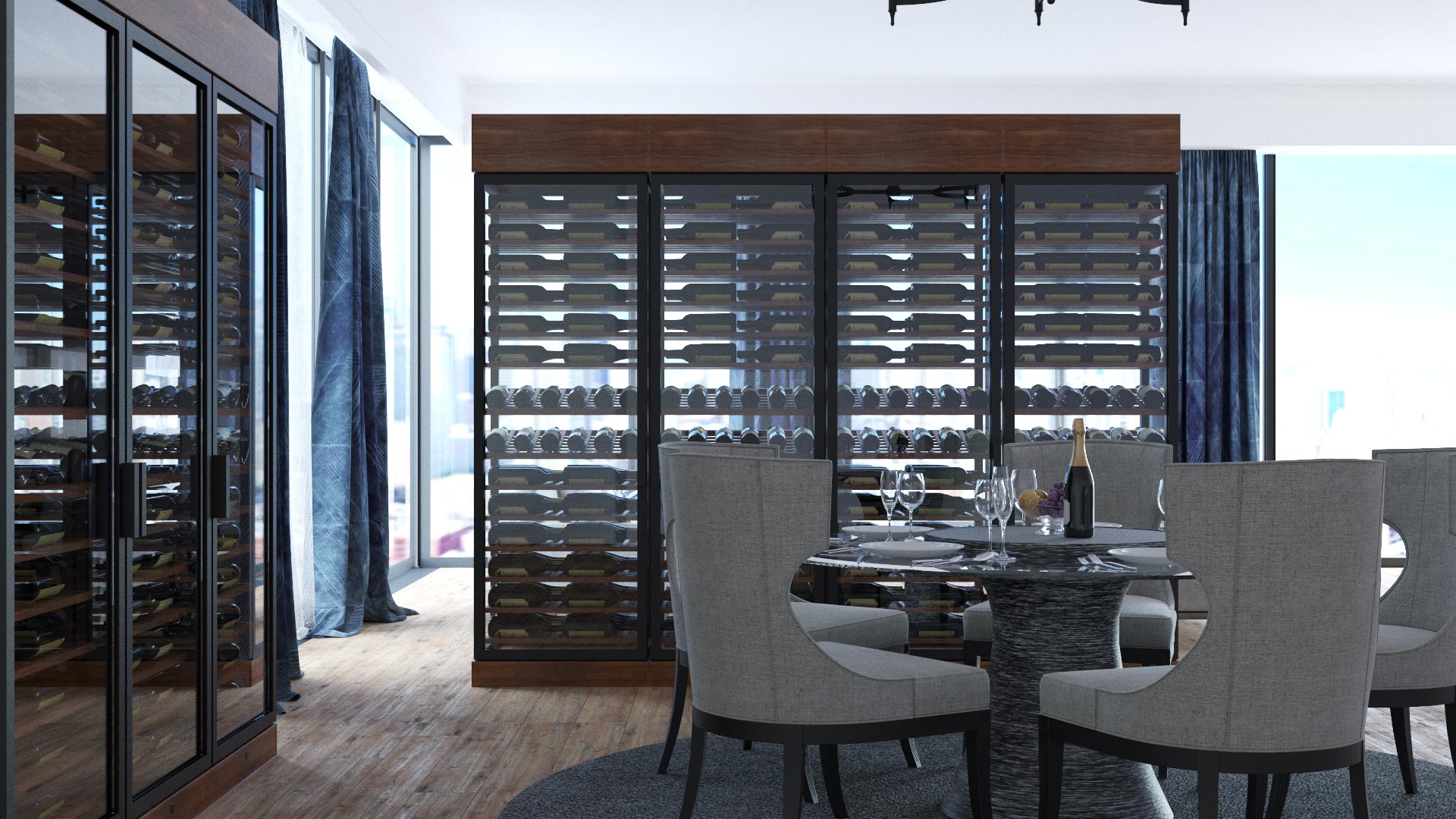 Dine-in wine cellar by Foxwood Wine Cabinets.
Wine cellars have undergone a massive transformation in the past decade. No longer dark, tucked away storage spaces, they are fast becoming the focal point of living spaces. Not just for dedicated oenophiles anymore, a luxury wine cellar elevates an estate while providing the perfect backdrop for entertaining.
Whether in a city penthouse or a sprawling countryside estate, a wine cellar is customizable to fit each home's needs. From rustic replicas of ancient French wine caves to ultra-modern multi-level wine libraries, the ultimate wine cellar is a faultless blend of style and function while housing the best wines in the world.
Where to Build Your Wine Cellar
The Wine Cellar
Once only coveted by oenophiles, an upgraded wine cellar consists of an elegant storage area and an adjacent wine tasting room. For those who prefer to store their wine rather than display it, the wine cellar is the perfect location to protect and enjoy their collection.
The Wine Room
No longer restricted to an actual cellar, wine rooms are for those who wish to display their wine like works of fine art. They are located on the estate's upper floors and found next to libraries or kitchens. The ultimate wine room is a case study in excellence: floor-to-ceiling rows of bottles illuminated beneath custom LED lights and encased in see-through glass walls. Perfection lies in seamlessly matching the wine room style to fit the design of the rest of the home.
The Hideaway Wine Cellar
For those harboring a whimsical spirit, the hidden wine cellar is an excellent choice to add an air of mystique to an estate. Consider a metal portal, hidden behind a painting or beneath a rug, opening up to reveal a chamber filled with wall-to-wall wine cellar racks carefully tucked into stone walls. Or a secret passageway through a set of bookshelves leading to a luxurious wine cave outfitted with a mini-library and plush leather reading chairs. The possibilities are endless.
| | |
| --- | --- |
| Wine cellar as a function of the living space. | Rustic wine cellar located in New York City. |
The Perfect Wine Cellar, a Marriage of Form and Function
Of course, the wine cellar exists to protect the wine's integrity by providing a climate-controlled environment. The perfect 55 degrees Fahrenheit, 65%-75% humidity, and light-control keep the wine from reacting. A luxury wine cellar in the home is not complete without the best cooling and monitoring system available. A system that issues alerts if the temperature has dropped or the humidity has changed is necessary to maintain the wine's integrity.
Bottles should be stored at the perfect temperature for their respective vintage. The ultimate wine cellar consists of a separate cellar for each reds, whites, champagnes, and humidors collections.
Just as precious baubles and priceless heirlooms are safely locked away, valuable wines must be kept secure. Installing either a code or fingerprint keypad at the cellar entrance ensures priceless bottles are protected at all times.
The ultimate wine cellar or wine room serves as both a wine library and a tasting room. Built-in tasting bars and glasses are found inside the cellar for quick tastings to select the wines. Just outside the cellar walls, an inviting lounge area is reserved for hors d'oeuvres and wine when entertaining company.
Aesthetics of a Luxurious Wine Cellar
Whether classic or ultra-modern, the design possibilities for a luxury wine cellar are limitless. However, particular attention should be paid to the choice of building materials, as some may off-gas and corrupt the wine. Stainless steel racks and wall-to-ceiling glass panels are excellent and safe choices for wine rooms.
A wine cellar should complement its wine bottles by utilizing natural elements, such as wood and stone. Wood with natural finishes can be safely used for wine racks, and integrated stone walls are a nod to the monastic champagne caves of Reims. The smallest of details can make a design–for wine libraries with taller shelves, a sliding ladder is a simple yet elegant touch.
The most exquisite wine cellars contain a moving water feature, such as a stream flowing through the cellar floor or a wall fountain. A true marriage of style and function, the water feature circulates airflow and increases humidity. This design feature is an homage to the British tradition of redirecting streams through their wine cellars.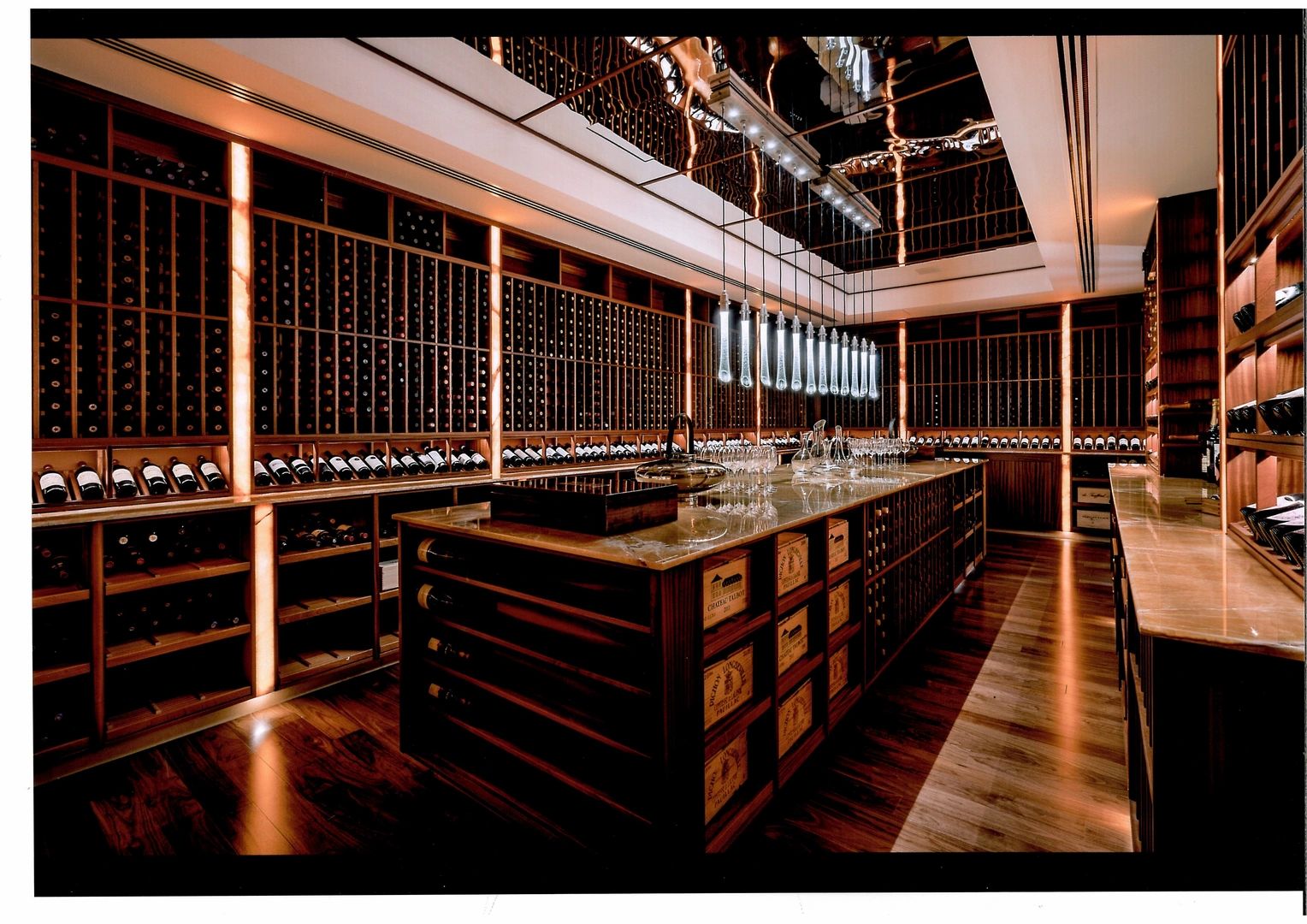 Beautiful wine cellar and cooling system by Rhino Wine Cellars.
The Most Important Part of a Wine Cellar: The Wine
The ultimate wine cellar is more than just its good looks. It must contain the finest vintages procured from around the world. Whether a bottle of Romanée-Saint-Vivant or Rossese di Dolceacqua, the selection should transport its owner to the heart of Burgundy or the sun-drenched vine rows in Liguria.
Finding the perfect vintages for a collection is daunting. Whether driven by taste or investment, hiring a luxury travel concierge and experienced sommelier will guarantee that the personal wine cellar is outfitted with an expertly curated selection of the world's finest wine.
With a membership from Sienna Charles, you can carefully cultivate and reimagine the space around you. Gain access to our network of globally renowned interior designers.
Sienna Charles offers a variety of luxury services to curate your ideal experience
Apply for membership