The private executive chef is a gourmand's best friend.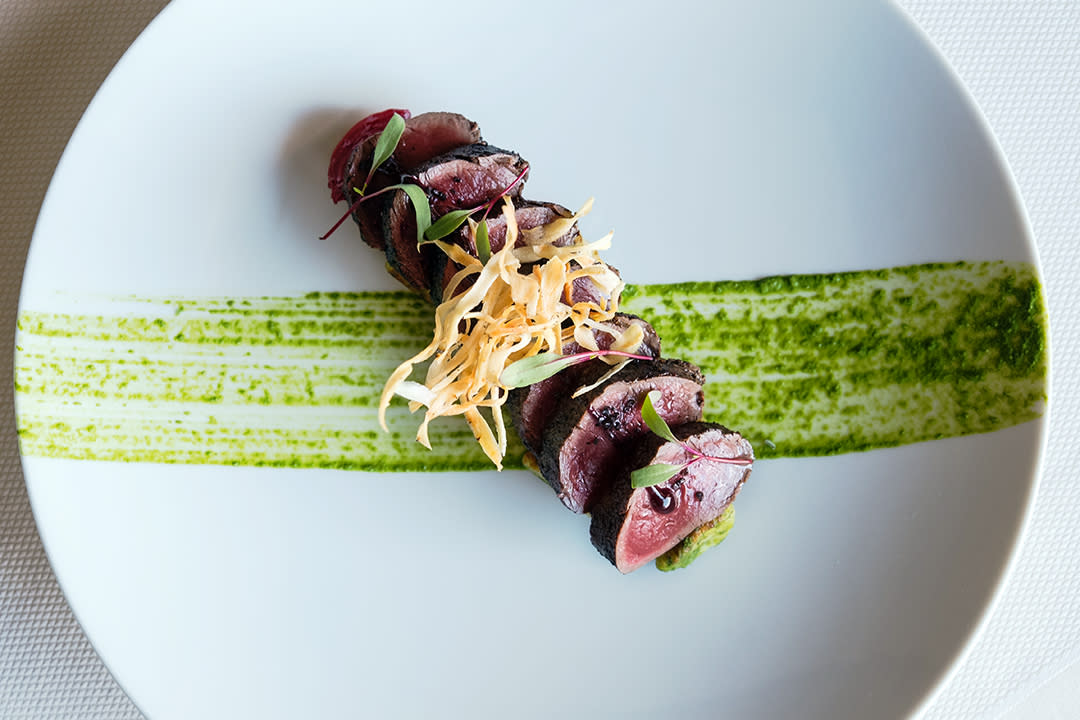 Fine dining brought to your home.
Keeping a private chef on staff is the easiest way to experience luxury gastronomy at home. It is the best alternative to dining out as the menu at home only offers what the client enjoys eating. From mouth-watering orecchiette to carefully crafted hamachi usuzukuri, every meal is guaranteed to be gourmet. Those with food allergies or dietary restrictions can dine easily, knowing the chef customizes each meal to fit their needs. Dine on a gourmet meal in any location, as chefs can travel worldwide with the household. The easiest way to please a gourmand is to have a chef on staff who can tailor luxurious meals that satisfy their palette. With our luxury concierge service, there is no need to worry about what to eat for dinner ever again.
| | |
| --- | --- |
| Alan Latourelle and Jenny Ung plating a dish at The Rogue Experience. | An exquisite dish, made by a private chef. |
WHY A PRIVATE CHEF IS NECESSARY DURING THESE TIMES
Due to recent events, more households are hiring private chefs than ever before. Although seemingly counterintuitive–as it involves bringing an outsider into the home–it is much safer than ordering food from a restaurant or caterer. A restaurant procures ingredients from a third-party, which are then transferred between many hands before ending up on the client's dinner plate. In comparison, the private chef safely procures the freshest ingredients and prepares them while taking extra precautions, such as donning a face mask and gloves. Also, most private chefs are open to taking routine screening tests to limit the chance of exposure.
Exposure is limited because a private chef can work around a household's schedule. If needed, they can work in the kitchen when family members are out of the home. The ability to have oversight over the food-handling process is reassuring and can keep the household members safe. If travel is necessary, the chef can travel with the household to strictly enforce food safety standards.
Those who enjoy eating their way through the world's gastronomical map find that recently imposed travel restrictions limit their access to the world's most exclusive fine dining restaurants. Local selections are limited, and choices become stagnant over time. Those still traveling are disappointed in the diminished fine dining experiences on offer due to safety restrictions. Gastronomes that cannot enjoy their usual culinary haunts–such as winter kaiseki in Hokkaido or an authentic paella in Barcelona–are hiring private chefs who can bring the best regional dishes to them.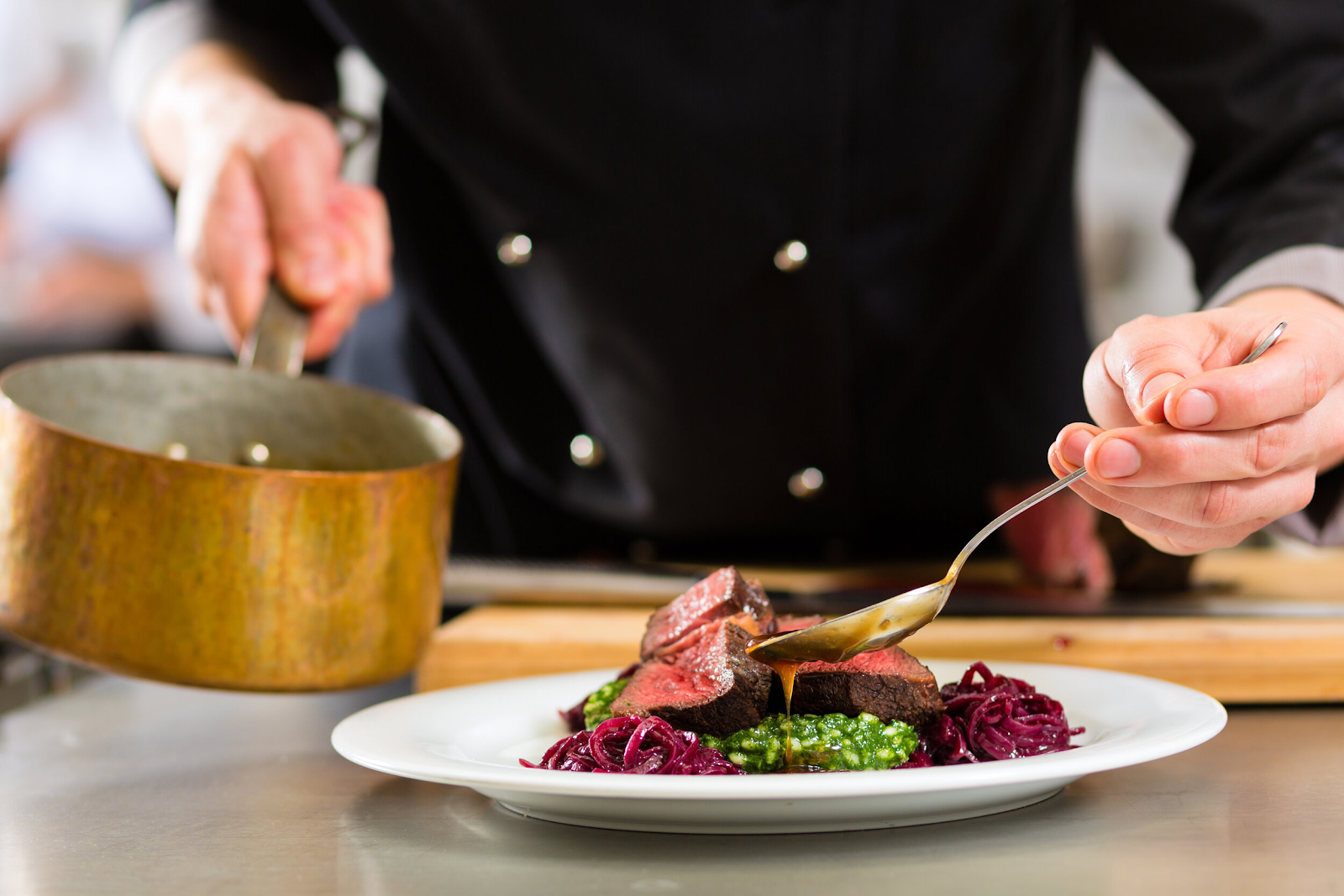 The chef de cuisine finishing off an elegant dish.
HOW TO FIND A QUALITY PRIVATE CHEF
When hiring a private chef, always look for a professional with a background in fine dining. Although not necessary, at least two years of Michelin star restaurant experience is desirable–working in a high-pressure, high-standards environment prepares them to think quickly and creatively under pressure. A quality private chef feels comfortable cooking dinner for two or twenty. It is essential to find someone willing to cater to events outside the home if necessary.
The private chef at home must have the ability to cook all types of global cuisines. A chef with a French cuisine background should still have extensive knowledge of Italian, Japanese, and any other international cuisine the client enjoys. An experienced private chef should have the ability to lead their client through a different region every night if required.
When choosing a chef, have the candidates create a sample menu for one week based on the client's preferences and diet restrictions. A private chef often operates in the heart of the home, so a good personality fit is a must. Always do a trial run with the final candidate for at least two weeks. Have the chef prepare a wide range of dishes over the trial period, including dishes usually enjoyed on special occasions.
An experienced, well-rounded chef should be able to craft excellent desserts, but hiring a maître pâtissier–or equivalent master of the craft–is a must for gourmands. Having expertly baked mille-feuilles and pain au chocolats on the breakfast table every morning and mouth-watering Kouglofs and Ispahans on the dinner table every night is a true luxury. The private executive chef and the maître pâtissier can work together to bring the most exquisite culinary masterpieces to the dinner table.
The most sumptuous Pasta Alla Norma outside of Catania, 120-day aged braised Wagyu beef tenderly wrapped in pickled chamomile, or a simple pea and herbs soup that reminds you of your grandmother. Whatever your palette desires, the personal chef can create. Become a Sienna Charles member to gain access to our little black book of the world's most renowned personal chefs, personally vetted by Jaclyn Sienna India to ensure the ultimate level of luxury.
Sienna Charles offers a variety of luxury services to curate your ideal experience
Learn More