The Nines - Downtown Piano Bar With Old Hollywood Glamor Vibes
Elegant, sophisticated, and romantic. Dressed to the nines is an expression that is more than just about the dress code at The Nines. A piano bar playing live, with classic cocktails of spectacular tipples and a light dining experience. Whether one only intends to pop over for drinks or linger in one of the stylish supper clubs with a glamorous European hotel vibe, neither occasion will feel out of place at The Nines. Not just every Friday or Saturday. Now playing every night, this downtown New York hotspot is a magnificent representation of the re-emergence of the supper club scene in New York City. Sienna Charles's expertise and attention to detail as a luxury travel concierge give our members the privilege to enjoy one-of-a-kind elegant and glamorous experiences.
The name says it all. 'Dressed to the nines' is an expression that originated in 1909. It means to dress at one's best with the best. The sleek restaurant and bar, stashed in a fine old storied street of Great Jones Street, is always fully committed. The upscale bar is a famous night scene, especially for its celebrity clientele. Reserving a seat is not easy with more than a thousand on their notify list. Though they do hold their front lounges for walk-ins, the waiting time can take up to more than two hours. Reflecting timeless elegance with its evenings of glamor, The Nines is a must for anyone who loves a night of NYC charm.

Chic & Sexy
The Nines is the latest from Golden Age Hospitality. A brand known for overseeing New York's most successful food and beverage venue with sought-after reservations. Jon Neidich, owner and chief executive, desires to capture 'old New York' as the red velvet curtains part. Right below The Nines is its sister spot Acme. From cocktail bar The Happiest Hour in the West Village to the French Brasserie Le Crocodile, and the newly revamped Acme, the brand always has and is consistent in drawing in the crowds to their posh bars and restaurants. Reservations are always full, especially at The Nines. Not just in an hour but in less than five minutes. It's wild, as per Justin Caron, director of service. After all, it is the sexiest date night place in New York City.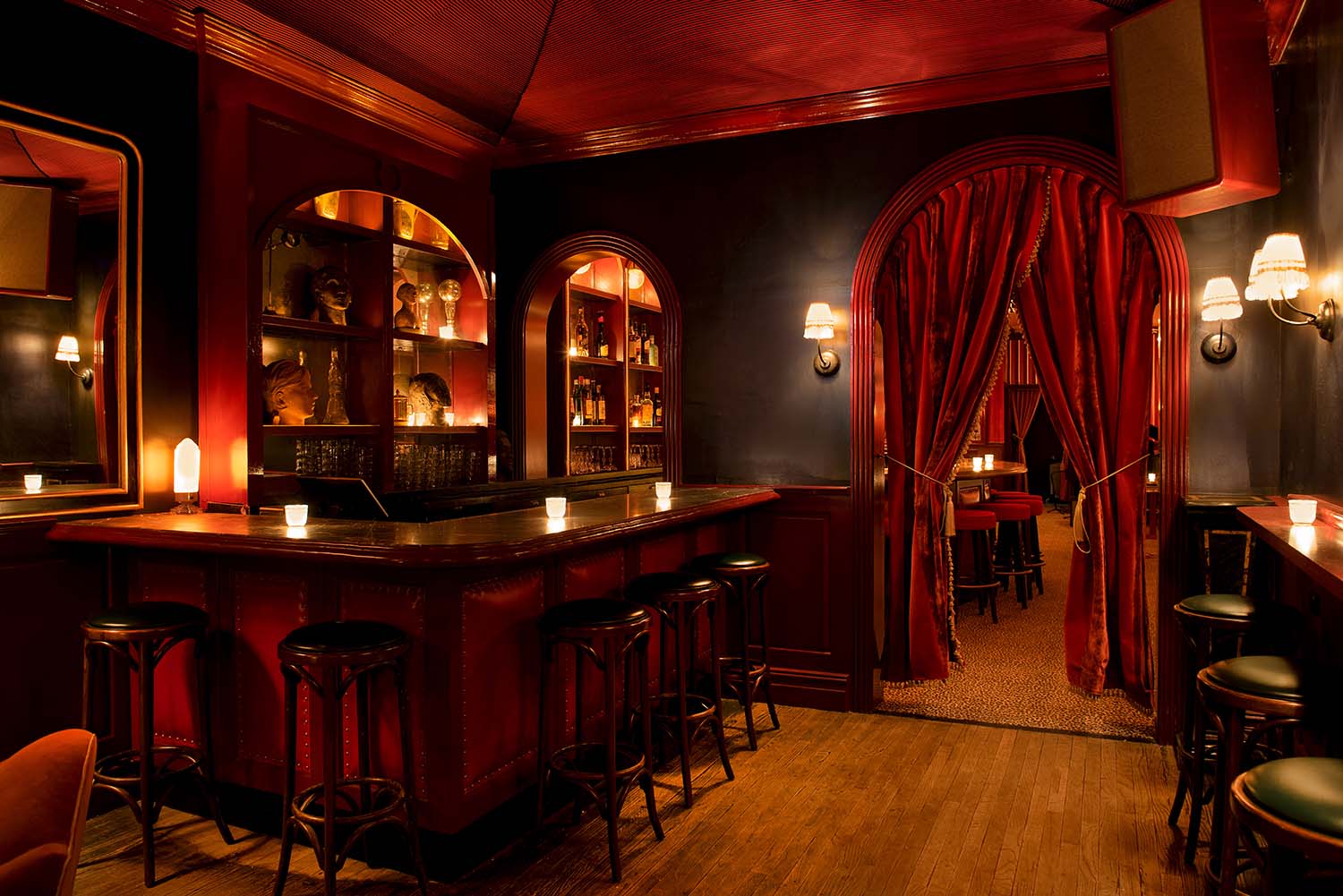 Where The Past Is
A vibe of the old Hollywood glam. The Nines serves wall-to-wall leopard-printed carpet, bold red interiors, cozy banquettes, and glittering chandeliers. Offering 70 seat total, 55 for the dining and 15 in the front lounge. The entire front lounge is reserved for walk-ins. This downtown piano bar is perfect for an extravagant pregame with well-executed cocktails and upscale bar food. The ambiance for most of its guests is like being transported back to the past. Soft jazz and classic piano tunes. It's a lovers' den.
Moody with rich burgundy hues. Its deep red color scheme gives it a rich ambiance of glamor. Shimming gold leaf wallpaper adorns the ceiling. With inspiration from grand hotel bars in Europe, The Nines offers more than just the act of drinking or eating.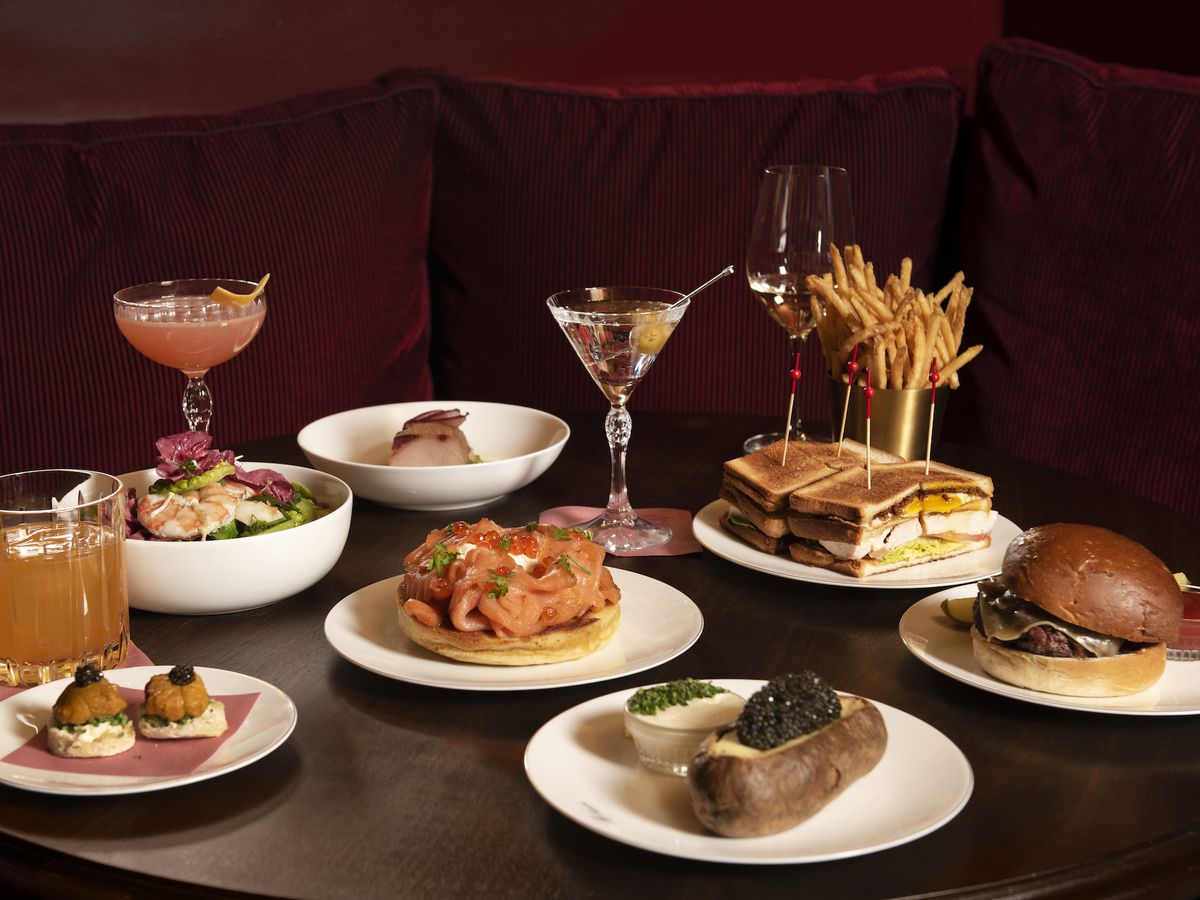 Luxuriously Minimalist Menus & Cocktails
Elevated culinary offerings. Chef Nicole Gajadhar features oysters and caviars. Along with foie gras, tuna tartare, potato with caviar, and gnudi with truffles. The menu also offers smoked salmon and blini, pain grillé au fromage, and signature 9's club sandwich with bacon jam and kewpie mayo. Exceeding expectations despite being light offerings. Their drinks director, Ashley Santoro, created classic cocktails and non-alcoholic choices exclusively for The Nines. Serving these in fancy glassware, one can enjoy and have a moment while sipping delectable cocktails.

Modern Elegance In Downtown Manhattan
Any excuse to wear a dress is a good excuse. The Nines create excitement for those who plan to visit this posh piano bar. May it be for a romantic date or a girls-night-out, it is a place that offers everything that one would need to go back in time to the old and classy New York City. Elegance is right at the forefront. Catering long-awaited evenings of an allure after two years of restrictions. One can immerse and get lost in the rich hues of burgundy and velvet tones of the interior design of this bar. Just like its sister spots, reservations take a lot of work to come by. Even at 11 pm, lines are still long despite having no signs.
A pianist playing in the middle. Romantic spots in the corner and a sexy bar counter. It's the new downtown Bemelmans. Perfectly curating a pleasant and romantic evening for anyone who can reserve a seat.