TRENDS IN LUXURY INTERIOR DESIGN
Today, tomorrow, and forever, luxury interior
design is a study in excellence.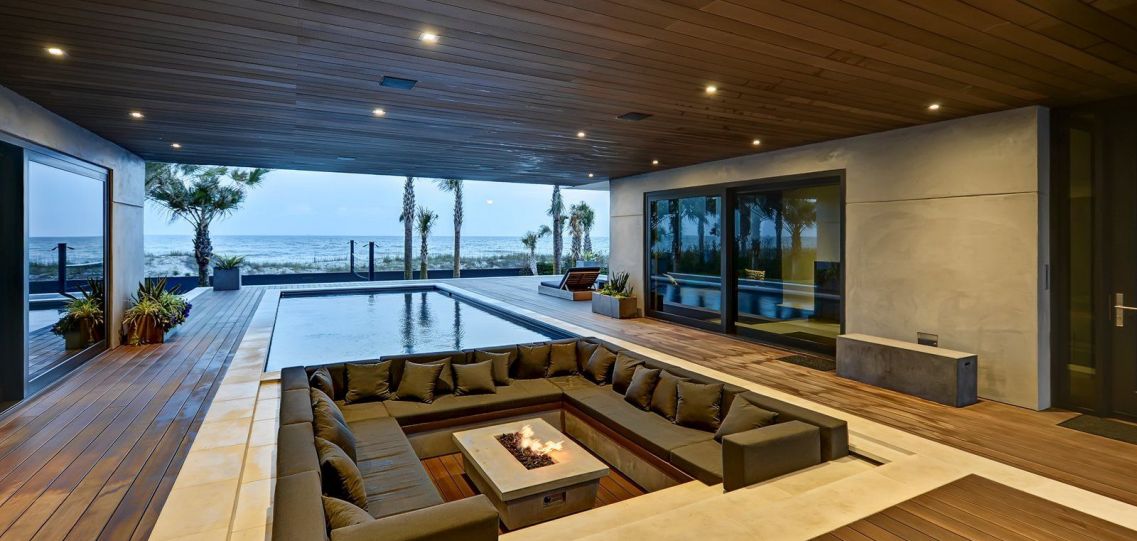 An indoor fireplace conversation pit.

Luxury home interior design is more than glossy marbles, art installations, and opulent bathrooms–it is a carefully cultivated set of design choices executed by masters of the craft. It is never uniform. Each piece of furniture, artwork, and finishing is selected and customized to fit flawlessly into the design. True modern luxury interior design means no two estates look precisely alike.
MODERN LUXURY INTERIOR DESIGN TRENDS TO TURN TOWARDS
THE CLASSIC WALL MURAL
A departure from the current ultra-modern interior design trends of the moment, the classic mural wall is making a comeback. No longer considered vulgar, when done right, the mural wall can elevate any room. Skilled artists are brought in to paint a seemingly limitless array of classic designs: jungles, picturesque countryside portraits, and reproductions of old masterpieces. The classic mural only works in boiserie-clad traditional drawing rooms or ultra-modern minimalist spaces. There is no in-between.
The Indoor Conversation Fire Pit
In line with the trend of making interior spaces both functional and fun, an indoor conversation fire pit serves as the perfect space for entertaining. A dark marble fire installation built into a conversation pit maximizes the cozy factor while still looking elegant. Whether standing or floor-level, the indoor fire pit is as welcoming and appreciated as an intimate bonfire.
HIGHLIGHTED TEXTURE IN A BLACK ROOM
Always a risky design choice, an all-black room can look magnificent if carried out well. Adding an illuminated texture feature, such as a panel or column, creates more dimension, culminating in an otherworldly and opulent look. Gold and silver are the complementary soulmates of black, but glass and steel can also carry the look.
A FOCUS ON LIGHTING
Although often overlooked, lighting is an integral part of interior design. Recent trends involve interior designers maximizing lighting to draw attention to key features of a room. Light can showcase a sleek staircase, create an ambient glow, or integrate with an art piece for a multi-dimensional look. This trend is most often used in luxury apartment interior design because it enlarges a smaller space.
The Sculptural Chandelier
The chandelier has gone through many renditions over its lifetime: from bulky, candle-laden behemoths to ultra-sleek slivers of steel, until it has reached its penultimate state: the sculptural chandelier. The center of attention in any room, the sculptural chandelier, is the easiest way to make a bold statement.
The Luxury Feature Wall
The natural evolution from the accent wall, the luxury feature wall, is a grandiose design statement. Often made up of quartz or metallic materials, these feature walls tower over every other element in the room. This look is perfect for any room but is often used in luxury bedroom interior designs.
| | |
| --- | --- |
| An ornate mural adorning the living room. | Luxury chandelier in a modern luxury interior. |
ARTISTS WHO ARE REDEFINING LUXURY INTERIOR DESIGN
JOSEPH DIRAND
Joseph Dirand is at the top of any best French interior designer list. He has risen to international acclaim and now works with some of the largest fashion global houses in the world. Dirand is a master at making hard materials, such as iron, marble, and concrete appear soft and sumptuous. He describes his work as evolving from minimalism to narrative. His designs are often described as living movie sets because of their ability to tell a story without occupants. In a society focused on consumption, Dirand strives to create sustainable and timeless designs that are admired for generations.
Signature style: Marbled fluted chimneys, giant industrial coffee tables, iron-clad sculptural pieces paired with soft whites, and delicate-looking concrete chandeliers.
DEBORAH OPPENHEIMER
Deborah Oppenheimer is the mistress of serenity in the luxury interior design world. She truly understands that the home should be a calm oasis. An international designer with roots in Zurich and Hong Kong, Oppenheimer brings out the best in eastern and western design. Oppenheimer manipulates open spaces, takes advantage of light and dark juxtaposition, and focuses on symmetry to create elegant, zen living spaces. Her fashion design background lends itself to her hyper-focused attention to detail, excellent taste in textures and materials, and a sharp eye on how they move and fall.
Signature style: neutral white, charcoal, and petrol blue color palettes, the juxtaposition of light and dark, soft and hard finishes, and minimalist spaces.
MARCEL WANDERS
Marcel Wanders is the Dutch-born co-founder of Moooi, a design firm home to over 50 international design specialists. His clients include MAC, Swarovski, and some of the most luxurious hotels in the world. Known for his iconic work, the Knotted Chair, Wanders continues to evolve and perfect his art. A true maverick of design, his sculptural pieces–otherworldly marriages of material and form–are often described as physics-defying. His interior designs give the illusion of being inside an ultra-luxe funhouse: oversized avant-garde gold sculptures appear to be jumping out of a wall, a giant white chandelier looms over a floating glass dining table, and a child-like accent chair with chunky legs sits playfully against the wall.
Signature style: opulent wall sculptures, oversized seating structures, grandiose wall panels, and whimsical art installations.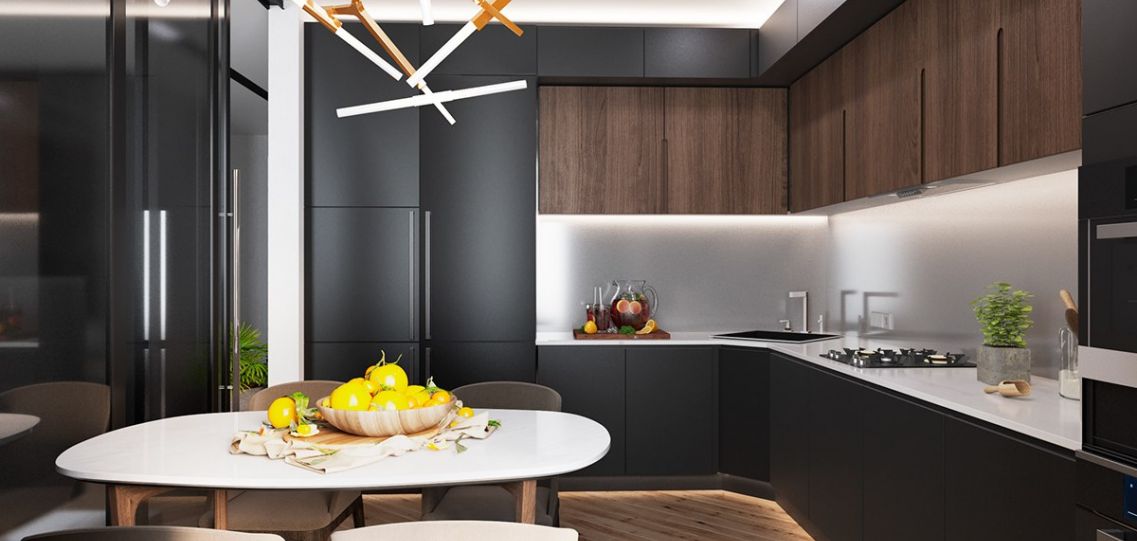 A kitchen with subtle backlit lighting.
With a membership from Sienna Charles, you can carefully cultivate and reimagine the space around you. Our luxury lifestyle concierge will help you to gain access to our network of globally renowned interior designers.
Sienna Charles offers a variety of luxury services to curate your ideal experience
Learn More