The Top 5 Luxury Restaurants in Miami
JACLYN SIENNA INDIA'S FAVORITE LUXURY DINING DESTINATIONS IN MIAMI.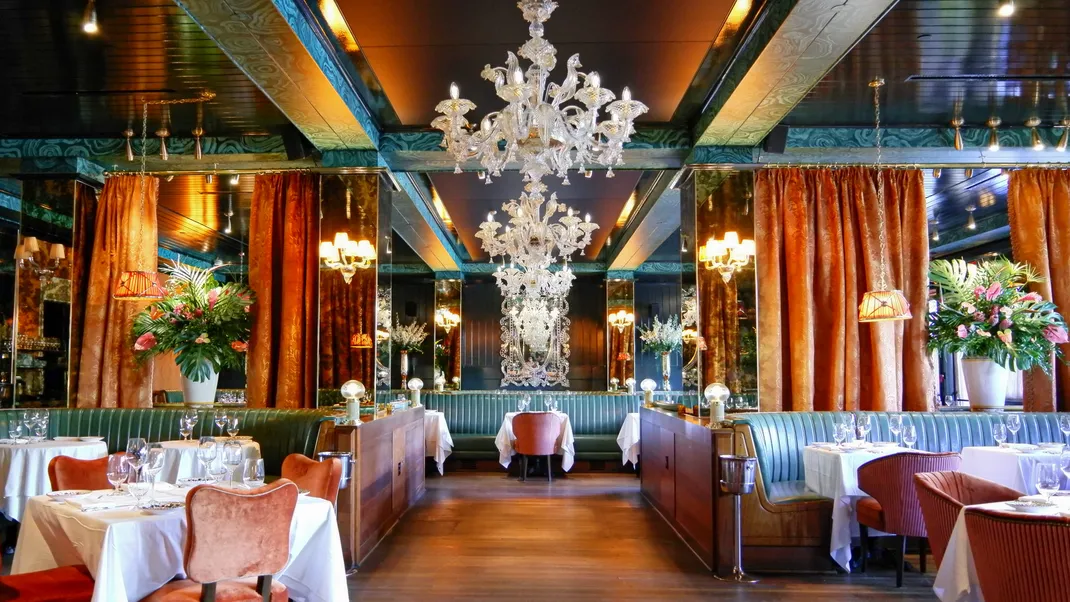 Top luxury restaurant Carbone features a mid-century aesthetic.
Home to no fewer than ten Michelin star restaurants, Miami is quickly becoming a global fine-dining destination. As diverse as the city itself, its culinary scene offers up nearly every international cuisine imaginable. With so many premier restaurants in Miami to choose from, only a few provide a truly exceptional dining experience. To ensure only the best for Sienna Charles members, Jaclyn Sienna India has carefully curated and vetted the following top luxury restaurants in Miami.
Haiku: South Beach's ultimate kaiseki experience
A dining destination as exquisite as it is exclusive, Haiku's private restaurant experience, or P.R.E., is the first of its kind in Miami. Located in the arts district of Wynwood, the members-only restaurant offers a kaiseki-inspired tasting menu. Haiku is currently closed to the public and invites only one member and their party to dine each night. The restaurant is the brainchild of owner Jess Varughese, who diligently planned for eight years before finally opening Haiku's doors earlier this year.
Haiku's interior is luxurious. Designed by Scott Kester, the talent behind San Francisco's two Michelin star Koi, the space is a lavish rendering of a traditional Japanese restaurant. Cool blues and marbled walls create a minimalist atmosphere that allows diners to focus on the artfully crafted dishes. The inverted cathedral ceiling and scalloped walls are undeniably stunning. Members and their parties sit at a 16-seat tasting table, eliminating the traditional barrier between diners and chefs. There are no waiters in this intimate dining experience. Instead, highly trained chefs serve patrons while embodying the Japanese concept of Omotenashi: honest and sincere hospitality from the heart.
Executive chef Albert Diaz of Zuma Miami and Zuma London is obsessive about the quality of ingredients used at Haiku. Sashimi-grade fish is flown in daily from Toyosu fish market in Tokyo. Local fish is dry-aged and added to dishes for an umami boost. During the course meal, our luxury concierge members can experience some of Haiku's signature dishes, such as Tokyo Bay tiger prawn with endive hada, or salmon harasu uni nigiri with freshly grated wasabi and local Elderflower–a dish inspired by the Edo period. Also on the menu is fresh elderflower tempura and chawanmushi with Hokkaido uni, a dish made with local Florida corn.
Interested in dining at Haiku? Contact Sienna Charles today to get on the members-only list.
| | |
| --- | --- |
| Haiku is one of the world's coveted exclusive dining experiences specializing in Japanese cuisine. | Acclaimed steakhouse Cote features world class ingredients and hard to find vintages. |
The best Italian fine-dining restaurant in Miami
New York City's one Michelin star Carbone has finally migrated south, making its way to the South of Fifth neighborhood in Miami. South Beach residents can now indulge in the celebrated high-end American Italian dishes that have been a staple of Greenwich Village for more than a decade.
Walking into Carbone is an experience in itself. The space is a funky blend of mid-century furniture, eclectic artwork, and rich, vibrant colors. Ornate glass chandeliers complement glossy black walls, while accents of deep reds and animal prints pop against lush velvet sofas. There's no doubt Carbone is one of the top luxury restaurants in Miami.
No trip to Carbone is complete without dining on their signature spicy rigatoni in a vodka sauce or their veal chop parmesan. The Caesar "alla ZZ" served table-side, octopus pizzaiolo, and porterhouse steak are all meant to be shared by the table. A round of classic cocktails with a twist, served up by expert bartenders, is a must, as is a bottle of Italian wine ordered off the wine list expertly curated by Carbone's wine director John Slover.
The vegetable-forward French restaurant taking over South Beach
A casually sophisticated French restaurant focused on serving only the highest quality seasonal and local ingredients, Le Jardinier's menu changes with the season. Culinary Director Alain Verzeroli carefully cultivates the vegetable-forward menu. At Le Jardinier, the vegetables are the focal point of nearly every dish, while proteins are complementary companions. The flavors are light and delightfully refreshing. Some of the vegetables and herbs are harvested from the restaurant's on-site garden. Signature dishes include spelt risotto with ramps and spring radishes and royal trumpet mushrooms served with bavette au jus and turnips.
Le Jardinier's wine list focuses on small producers' vintages, each bottle carefully selected by the restaurant's experienced sommelier team. The cocktail menu is innovative–its ingredients as varied and vegetable-forward as the food menu. The restaurant's signature Beauregard is made up of Arette Tequila Blanco, and Peleton de la Muerte Mezcal infused with espelette peppers, kummel, and sweet potato.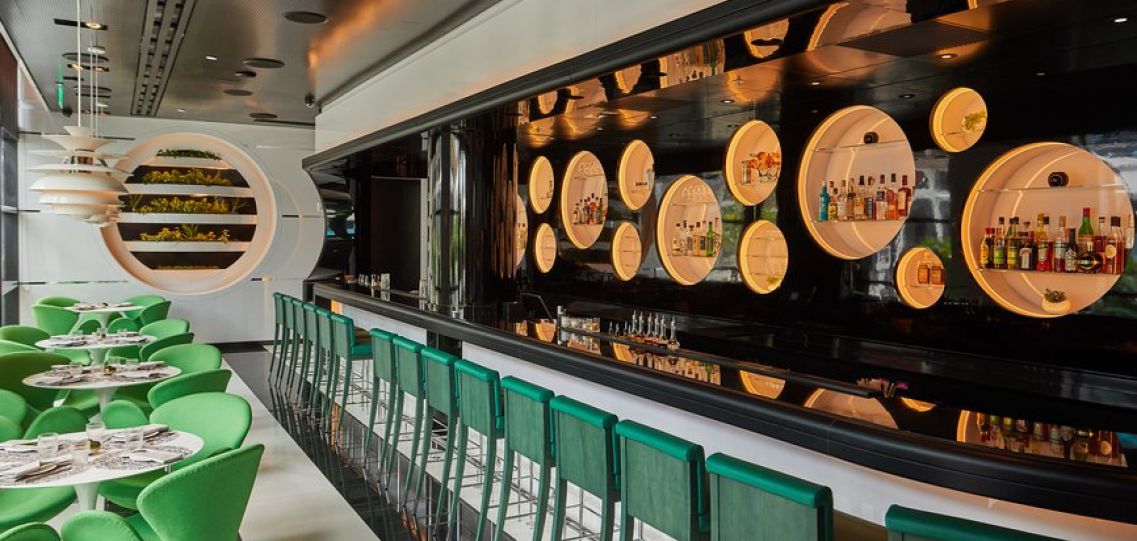 Le Jardinier features retro-glam with a modern contemporary interior.
A FRESH TAKE ON MIDDLE EASTERN CUISINE
A cozy cafe nestled in the heart of the South of Fifth neighborhood, Abba Tel Aviv reaches beyond Middle Eastern cuisine to bring flavors from North Africa, Europe, Turkey, and Syria to South Beach. The perfect spot for breakfast or a light lunch, Abba Tel Aviv's menu offers plenty of healthy options.
For breakfast, signature offerings such as za-atar-lemon croissants and Burekas stuffed with Bulgarian feta are popular. For lunch, dishes can be as light as an Israeli Kale Caesar, including crunchy pita and tahini dressing, or for heavier alternatives, the sumac chicken shashlik served with laffa.
The cafe is comfortable–the latticed wicker furniture, pastel accents, and lush greenery give the space an earthy and relaxed feel. There's also plenty of outdoor banquet seating to take advantage of during the warmer months. The restaurant currently offers breakfast, lunch, and a sunset menu served from 4 to 7 p.m.
Cote: the ultimate Korean barbeque experience
Michelin starred and a recipient of the James Beard award, Cote is arguably the world's best Korean-style steakhouse. Located in the Miami Design District, the restaurant does the seemingly impossible: it elevates barbeque to a fine dining experience. Their menu features prime cuts and American Wagyu that has been diligently dry-aged in Cote's on-site red light dry-aging room. Every ingredient on the menu is given the utmost attention–even the pickled vegetables are fermented in the restaurant's vegetable fermentation lab.
An authentic Korean barbeque house, Cote encourages guests to grill their meat on smokeless tableside grills. More than just barbeque, their signature dishes include the "Steak and Eggs," a dish of filet mignon tartare and Kaluga Royal Hybrid caviar served with a side of milk toast. Another favorite is the incredibly popular butcher's feast, which includes a selection of chef's choice cuts, egg soufflé, two stews, and soft-serve ice cream.
A complete list of Jaclyn Sienna India's favorite luxury dining destinations in Miami
Jaclyn Sienna India's discerning taste and more than a decade's worth of ultra-luxury travel expertise allow her to curate only the best dining experiences for Sienna Charles members. From exclusive, member-only restaurants to the perfect lunch date cafe, Sienna Charles' little black book has everything to fulfill every one of its member's luxury dining desires.
Allow Sienna Charles to guide you through the best luxury dining destinations the world has to offer. Become a member today to discover the culinary adventure of a lifetime.
Sienna Charles offers a variety of luxury services to curate your ideal experience
Learn More