The New Art Deco Gem Of Palm Beach
A FINE-DINING EXPERIENCE THAT SHOULDN'T BE MISSED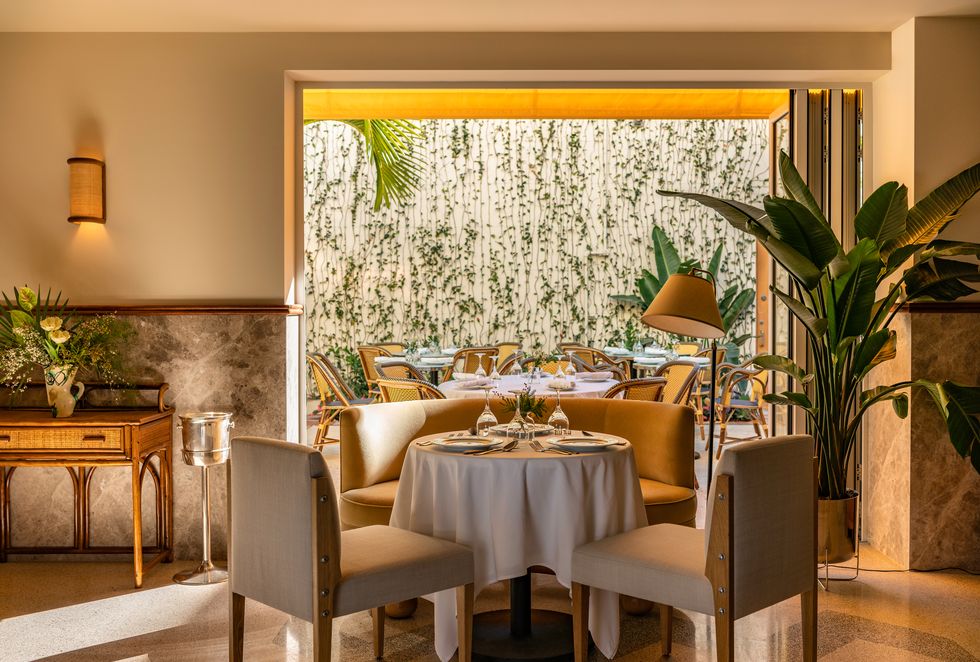 Le Bilboquet features cream-colored furniture and lush greenery accents | Photography by Ori Harpaz
Tucked away just off Worth Avenue, Le Bilboquet is an oasis for those seeking respite from the bustling city center. The restaurant's cool neutrals and earthy accents, such as bespoke cream seating and lush greenery, draw in clients while its hospitality-centric service invites them to stay. More than a restaurant, the locale is a feast for the eyes. David Lucido is the expert designer behind the French art deco showpiece. A master of marrying old warm charm with luxurious modern finishes, he is a rising star in the restaurant and hospitality world.
The restaurant's interior features custom french art deco seating inspired by French Cubist designer and architect Paul Dupre-Lafon. Marine blue banquets complement the cream-colored sofas and chairs. Two rounded half pillars hug the bar area, giving it a vintage look. Lucido seamlessly incorporated French pieces–such as the outdoor wicker chairs handmade by French design house Maison Gotti and the nickel-topped bar imported from Paris. Inspired by the colorfully tiled risers on Worth Avenue, Lucido installed a yellow checkerboard tile pattern on the winding plaster staircase wrapped around the restaurant. No detail has been overlooked, creating a flawless ambiance that immerses visitors in Lucido's vision.
| | |
| --- | --- |
| The dining room features stunning nickel chandeliers | Photography by Ori Harpaz | The Maison Gotti wicker chairs and nickel-topped bar were imported from Paris for an authentic French aesthetic | Photography by Ori Harpaz |
ONE OF MIAMI'S TOP HIGH-END INTERIOR DESIGNERS
No stranger to luxury interior design, Lucido's past projects include The Mercer Hotel in Soho–a favorite amongst the world's most iconic fashion designers. The property is coveted throughout the design world for its perfect balance of cozy and chic. Lucido also designed Le Bilboquet's sister location in Manhattan of the same name.
Although both restaurant locales are art deco-inspired, Palm Beach's Le Bilboquet has been tweaked to reflect the coastal city's more relaxed atmosphere. Lucido traded in deep blues for marine blue accents that mimic the sea's soft tones and incorporated lighter touches–such as switching heavily patterned tile for a minimalist floor pattern to mimic the light and airy feel of sand. Large accordion-style doors take advantage of the warm coastal weather and are often left open for an inviting look.
Lucido is one of the rare high-end interior designers who know how to produce opulence without being overbearing. His final look is a harmonic blend of nature and modern luxury. To pay homage to Palm Beach's art deco roots, Lucido used a mixture of quintessential art deco flourishes and classic French designs. The result is a flawless scene that transports its visitors to new and old-world Europe.
ULTRA-LUXURY INTERIOR DESIGN BASED ON A RICH HISTORY
Always wanting to include historically accurate design features, most of Lucido's design choices are based on the rich history of the art deco period. Plywood was heavily used in the early 20th century, eventually making its way into the period's iconic curved furniture–a feature reflected in the curved custom sofas and half pillars. The two large, circular custom nickel chandeliers adorning the dining room harken back to the 1920s when nickel began gaining popularity and was heavily used in interior design.
Artwork by Beth DeWoody, whose work is on feature at The Bunker Artspace down the road, adorns the walls–an homage to the local art legend. Her instantly recognizable eclectic pieces help the native Palm Beach residents feel more at home. The outer walls are delicately covered in ivy, while large palms pepper the courtyard. Large bushes separate private grottos in the courtyard. Here patrons can sit back and relax within their secluded nooks while they take in the calm and charming atmosphere.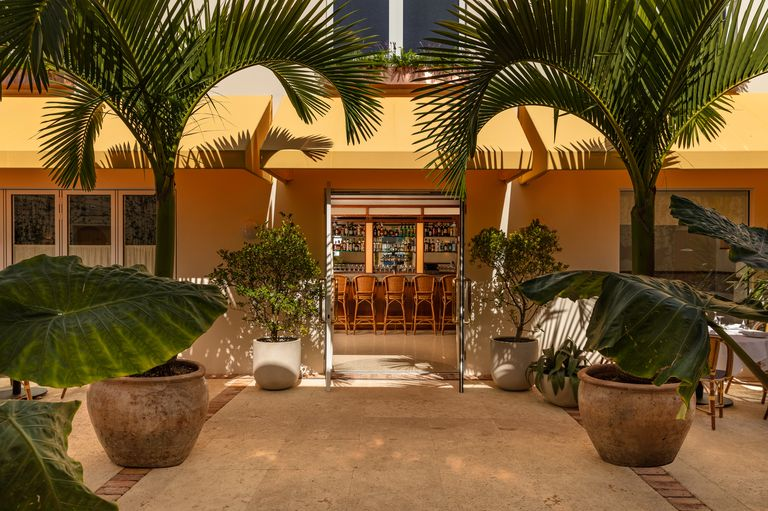 Le Bilboquet has become Palm Beach's new favorite restaurant | Photography by Ori Harpaz
A FINE-DINING EXPERIENCE THAT SHOULDN'T BE MISSED
The restaurant serves classic French seafood with a coastal twist, and the artfully crafted dishes are as light and airy as the restaurant itself. Start with a classic La Planche de Charcuterie for the table, then indulge in Le Bilboquet's feature dishes, such as Le Poulet Cajun and La Bouillabaisse Royale, the stew crafted using locally sourced seafood.
At night Le Bilboquet comes alive with seductive, warm amber lighting, and the sultry atmosphere can fool anyone into believing they've been transported to an upscale Parisian cafe. Visitors would be remiss if they didn't try one of the signature cocktails, such as C'est Mezcup!–the mezcal being a cheeky nod to Miami Beach's Latin roots. The restaurant is quickly becoming a favorite to those who call Palm Beach home. Residents have discovered the fine-dining sanctuary, and the restaurant is often packed each day.
Interested in visiting Le Bilboquet and other exclusive restaurants? Allow our private luxury concierge to guide you through the best luxury dining experiences the world has to offer. Become a member today to discover the culinary adventure of a lifetime.
Sienna Charles offers a variety of luxury services to curate your ideal experience
Learn More