Jōji: A Sublime Omakase Experience at One Vanderbilt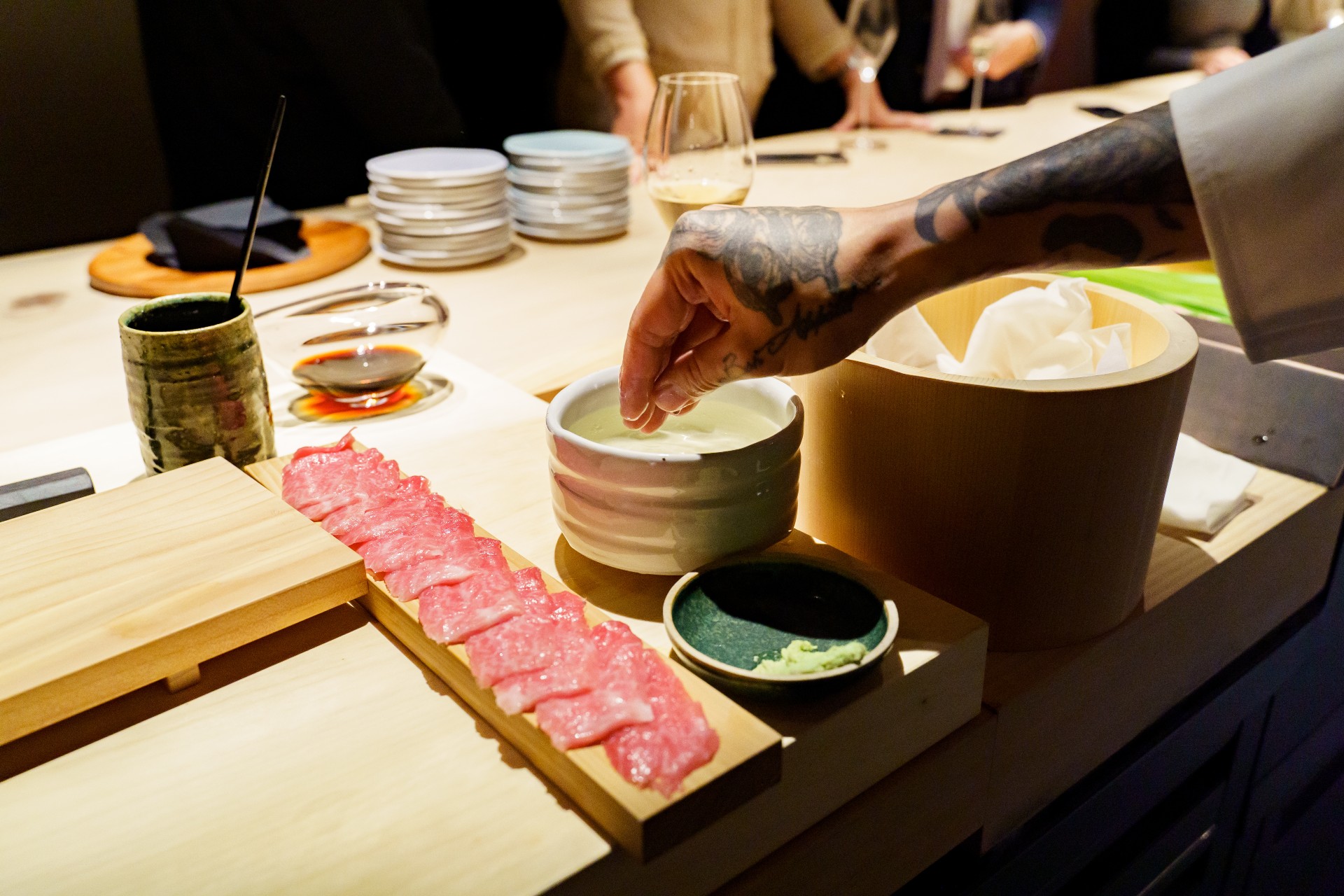 Omakase – a Japanese system of trust in the chef's finest choices. Traditional, unexpected, and an entirely bespoke experience in an alcove of Grand Central Terminal. Jōji is an exclusive and tranquil sushi dining experience led by Chef George Ruan and overseen by Michelin-Starred Chef Daniel Boulud.
A celebration of the cherished Omakase experience–Jōji. Located below One Vanderbilt, the sister of Le Pavillion, is the new secret sushi den in New York City. Just like the traditional high-end sushi counters inside the train stations in Japan, Joji's location right at the bustling travel hub is a nod to the authentic Tokyo-in-New-York experience. Granting unique and entirely bespoke experiences to its diners, Jōji offers an intimate dining experience with two seatings–a ten-seat counter and an eight-seat private dining room.
Bespoke Dining
Creating the perfect balance between rice and fish. Excellent, creative, and bold, Jōji is an idea born while Chef Daniel Boulud was making Le Pavillion. The idea of a secret sushi den was intriguing to him. Sushi in Japan has been an exclusive experience, especially in famous shops catering to the world's craving for classical raw-meet-rice dishes.
Executive Chef George Ruan honed his craft for nearly two decades at Masa—the three Michelin Star temple for Japanese cuisine. His story is an incredible journey. He started as a server and, with dedication, soon began training in the kitchen. His love and appreciation for food became his foundation in rising as a sushi master. His deep and discerning knowledge of Japanese cuisine and dedication to fine dining helped him create his unique culinary style of sushi omakase.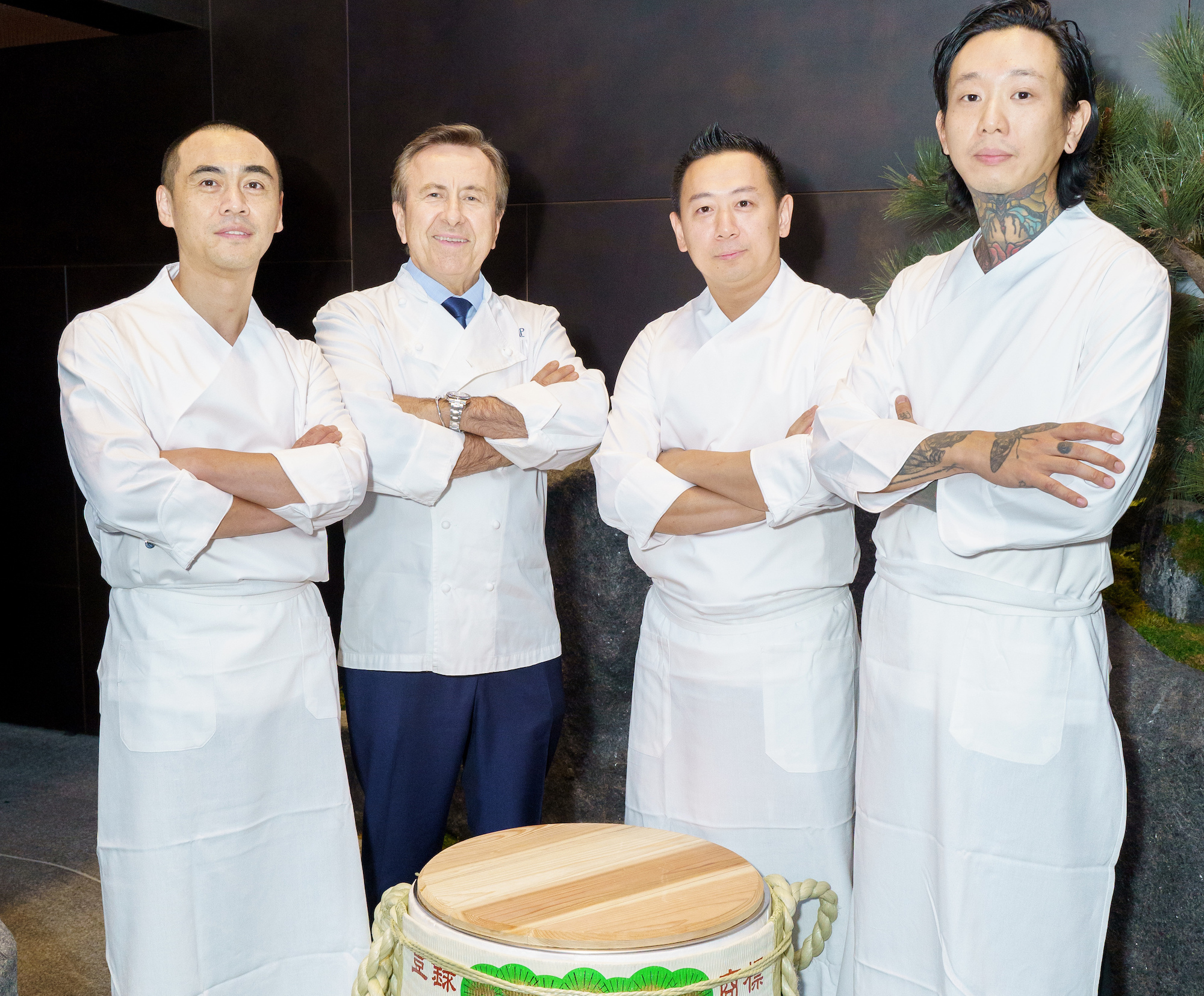 Chefs Xiao Lin and Wayne Cheng, having worked at Masa previously, complete the remarkable team of friends in the kitchen of Jōji. With special cooking skills, their abilities helped them develop a deep flavor in their dishes. Their extraordinary experiences and passion for cooking bring a fresh perspective and exciting dining sensations to their Jōji's diners.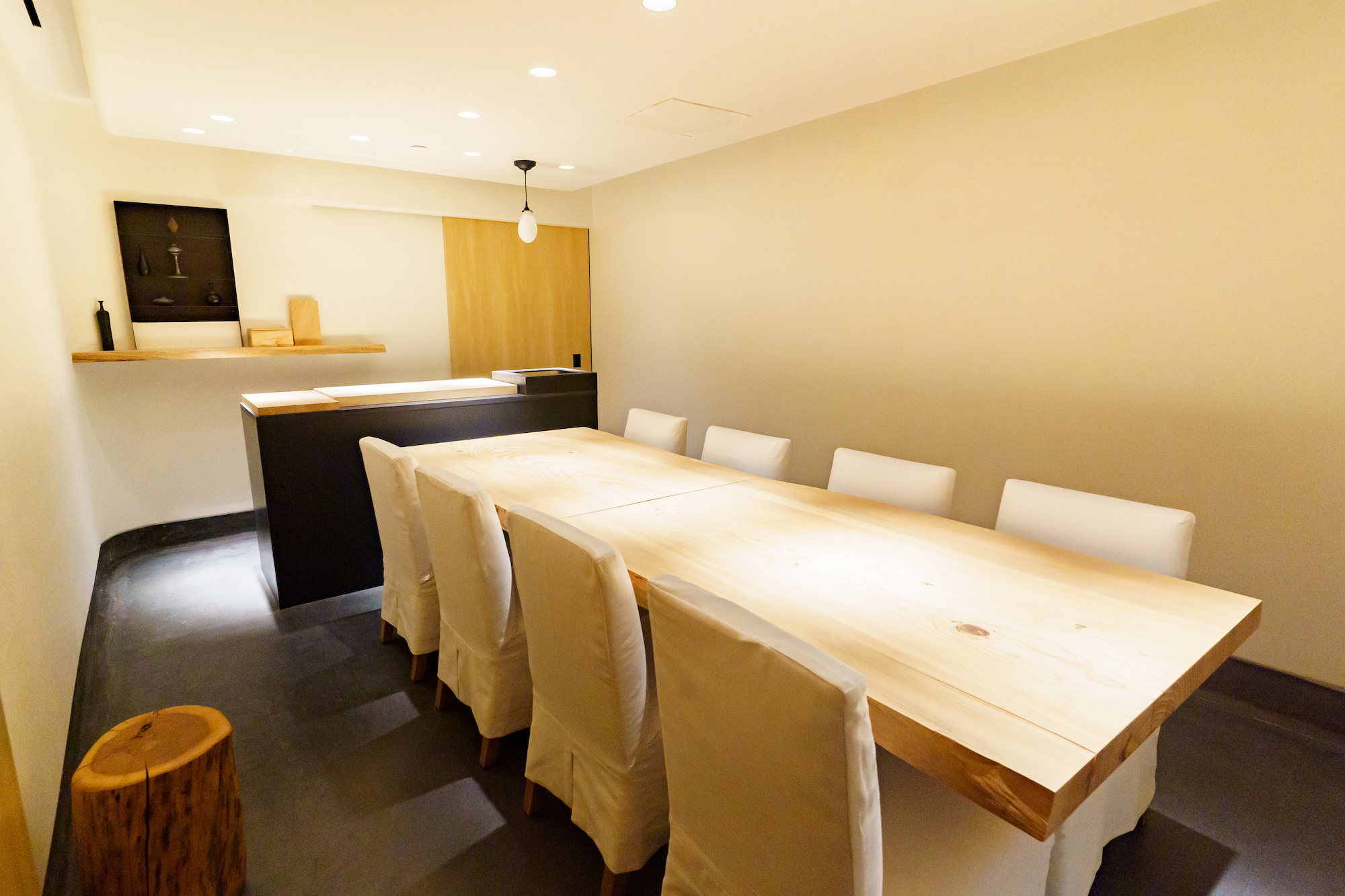 Jōji's tranquil ambiance was designed by Shinichiro Ogata, founder of Simplicity Design. Handpicked artworks, contemporary art installations, and Japanese artifacts can be observed throughout the restaurant. Designing also the Roti Garden at the entrance, Ogata's minimalist style, created a dark contrast. Featuring wood, dark stonework, brass accents, gentle curves, and recessed lighting, Jōji's overall interior is one of the most unique and serene settings one would want to have for a sublime sushi omakase experience.
Sushi Lovers Sanctuary
It is no surprise that Jōji is like a well-kept secret. Especially for sushi lovers. With their limited and intimate setting, the reservation list waiting for line is said to be full until next month. Jōji, a unique experience rarely found in New York, despite being a den of world-class cuisine, continues to transport its diners to a taste of Japan.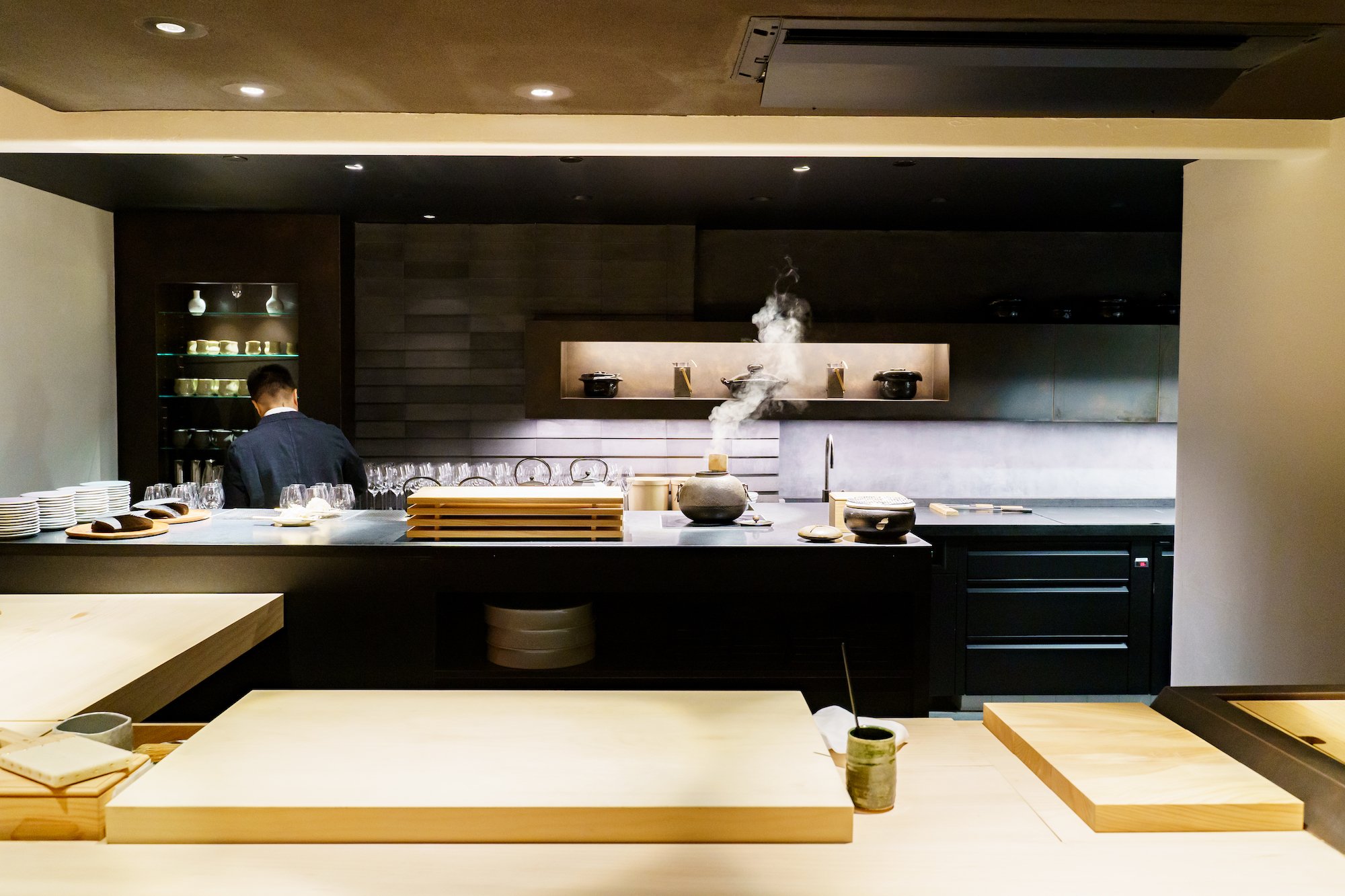 Courses at Jōji showcase the best-seasoned ingredients. Granting their customers an ultimate dining experience, guests who have visited before are offered a personalized and different sushi omakase. Premium and fresh fish are delivered to Jōji straight from Japan twice a month. Every day, the menu here changes. Surprising diners with an authentic Japanese experience and unique taste of New York.
Jōji's sushi omakase includes five appetizers, 14 pieces of nigiri sushi selected by the chef, and one dessert, a 22-course experience. Offered with a pairing of sake and wine, their curated seasonal menus are a tasty experience that is not to be missed. Top recommendations are tilefish appetizer with a Sturgeon caviar and onion puree and the rare deep sea fish called Kinki.
Jōji's cocktail menu is another one on the list to try. Partnering with Takuma Watanabe, their four seasonally rotating cocktails– shiitake old fashion and Umami-tini adds to its extensive list of wine and sake. While Cheng created their menu, a collaboration with Watanabe shows how his choices are of high quality.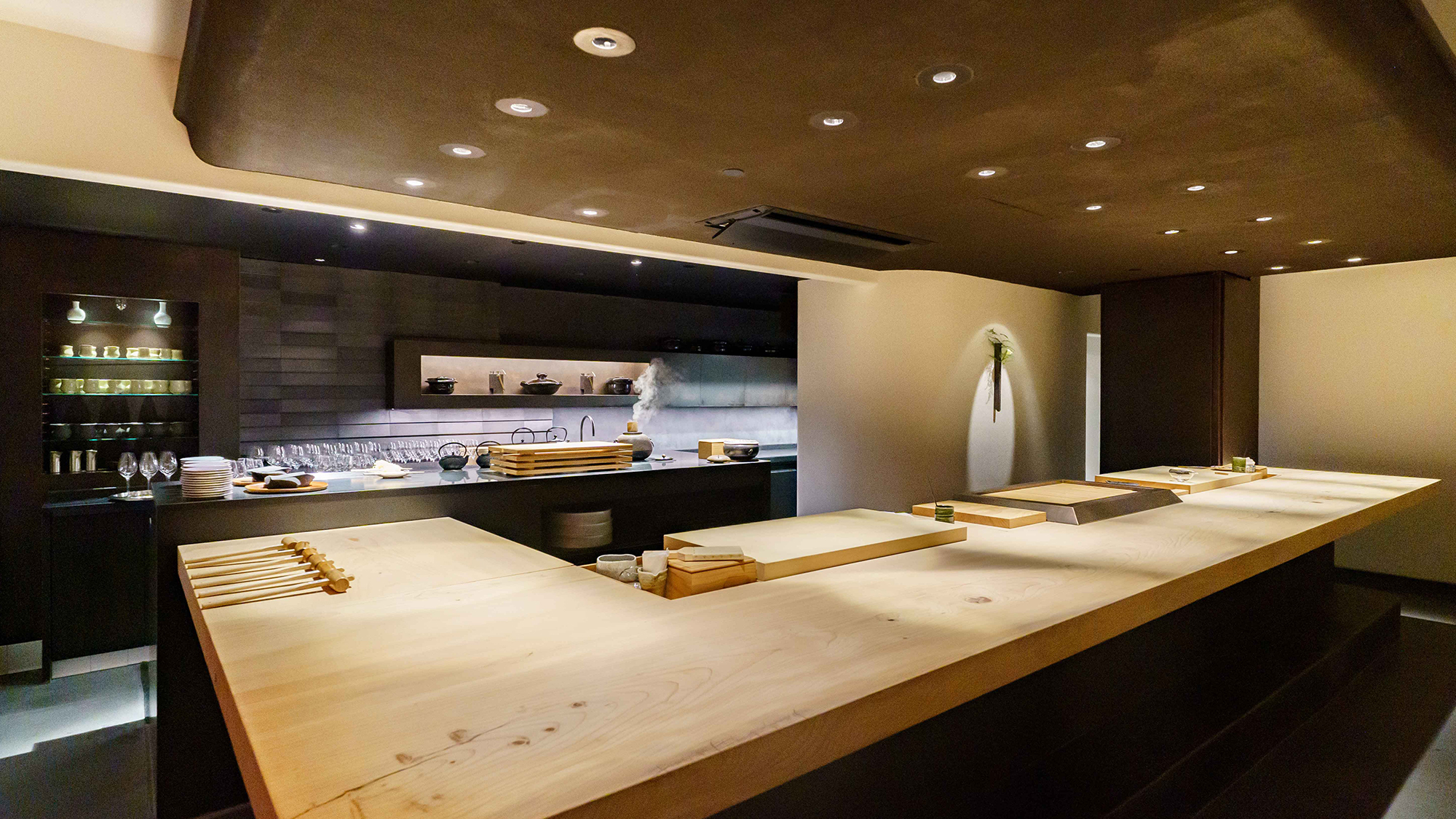 Traditionally Unique
Jōji honors the Japanese tradition. Chef Daniel has imagined their to-go counter as a place with a take-out omakase experience. Commuters would have the chance to pick up a box to bring home and enjoy or eat at their office mid-day. With pre-selected items like tuna nigiri, uni nigiri, tuna maki, salmon nigiri, and maki rolls, their take-out option is also a complete experience.
A place where guests won't be afraid to ask a question. Jōji omakase experience is like dining at a friend's house. A good time is promised. With their changing menu, one would quickly become a regular here. Adding a twist to their service, their regulars are incredibly cared for. No matter who you are, their chefs do not like to play favorites. But because of their intimate seating, each chef personally sees each sushi service and builds a good relationship with the guests. Setting them apart from other omakase experiences is their lack of pretentiousness. A priceless quality that enhances their personalized sushi omakase offering.
Jōji is an embodiment of a traditional and daring secret sushi experience. Bringing together chefs who worked at Michelin-Starred restaurants on a project by Chef Boulud. The hidden alcove under One Vanderbilt is the new sushi adventure each foodie must try. For those on the hunt for the best high-quality sushi, Jōji offers more than omakase. It offers the taste of Tokyo-in-New-York. They are one of the best sushi counters in the omakase category. Not just in New York but throughout the world.
Sienna Charles offers a variety of luxury services to curate your ideal experience
Apply for membership